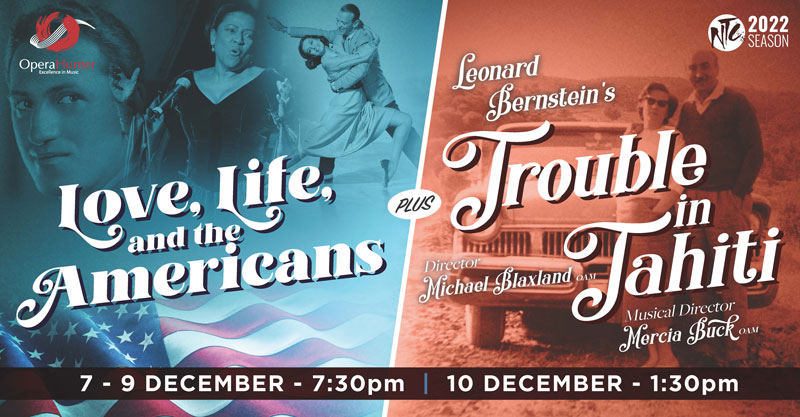 Love, Life and the Americans, & The Leonard Bernstein Opera – Trouble in Tahiti
LOVE LIFE & THE AMERICANS
LOVE LIFE & THE AMERICANS stars the glamorous AFTER FIVE – Wayne Rogers, Mary Russ, Kathryn Graham & Graeme Hands presenting their stunning entertainment of classics from the American stage of the 20th Century. Enjoy works from The Ziegfield Follies & Showboat from the 1920's.
TROUBLE IN TAHITI by LEONARD BERNSTEIN
Brooke Littlewood, James Walker, Beth Traynor, Theo Williams & Luke Power dazzle in this gem by Leonard Bernstein set in American suburbia of the 1950's.
BOOKINGS
Ph. 4952 4958 or online at newcastletheatrecompany.com.au
FULL PRICE TICKETS – $40
CONCESSION – $35
LOCATION / DATE / TIME
Newcastle Theatre Company
WEDNESDAY 7TH – 7.30 pm
THURSDAY 8TH – 7.30 pm
FRIDAY 9TH – 7.30 pm
SATURDAY 10TH – 1.30 pm