Opera Hunter, committed to presenting Opera and Music Theatre to the Hunter and beyond since 1986
Opera Hunter was formed in 1986 by a team including Mercia Buck as President, Colleen Potts, Tom Naisby, (the Newcastle Herald music critic) , Susan Hart, Karen Hawkins (now Walmsley), Philip Sketchley, Barry Walmsley and Rob Langley. It was then called Hunter Opera, a name which many still use. An early patron of the company was Rosina Raisbeck.
After fundraising and planning, workshops were held at Newcastle High School in 1987 and directed by Alan and Janice Light.
Among the many artists in that first workshop were Michael Saunders, Walter Blundell, Linda Barcan, Hesta Hanna, Sue Hart, Karen Hawkins, Colleen Potts, and John Bunton. Pianists were Philip Sketchley, Helen Smith and Mercia Buck. The program contained excerpts from well known works including Gianni Schicci by Puccini, Louise by Charpentier, and Carmen by Bizet.
In June 1988, the company presented Act 1 of each of Julius Caesar by Handel, and La Traviata by Verdi under the direction of Mary Louise Ambler. The venue was the Belmont 16 foot club, and it was sponsored by Lake Macquarie Music Society.
In October 1988 Hunter Opera presented The Magic Flute at Civic Theatre, Newcastle. It gained major funding from both Lake Macquarie and Newcastle's Bicentennial committees. Conducted by Neil Flottman, and directed by John Sienczuk, this production won CONDA awards for: the Commonwealth Bank Award for Outstanding Achievement in Newcastle Theatre , Best Production, Best Lighting Design- James Jablonski.
There followed a busy nine years under the helm of president Colleen Potts. 1989 saw productions of Menotti's The Telephone, and scenes from Humperdink's Hansel & Gretel and Strauss's Die Fledermaus. Venue was Warners Bay Hall. May and June 1990 saw a production of Die Fledermaus conducted by John Kellaway, and directed by Frank Oakes at The Griffith Duncan Theatre. Dancers from Marie Walton-Mahon Dance Academy added to the great success of this production.
In 1991 two major seasons of Mozart were presented; "Mozart at Elizabeth's", a restaurant at the waterfront , hosted Bastien and Bastienne, and Menotti's The Old Maid and the Thief; then the Mattara Festival hosted a production of The Marriage of Figaro at the Civic Theatre. Ross Fiddes was appointed Artistic Director of the company in the same year.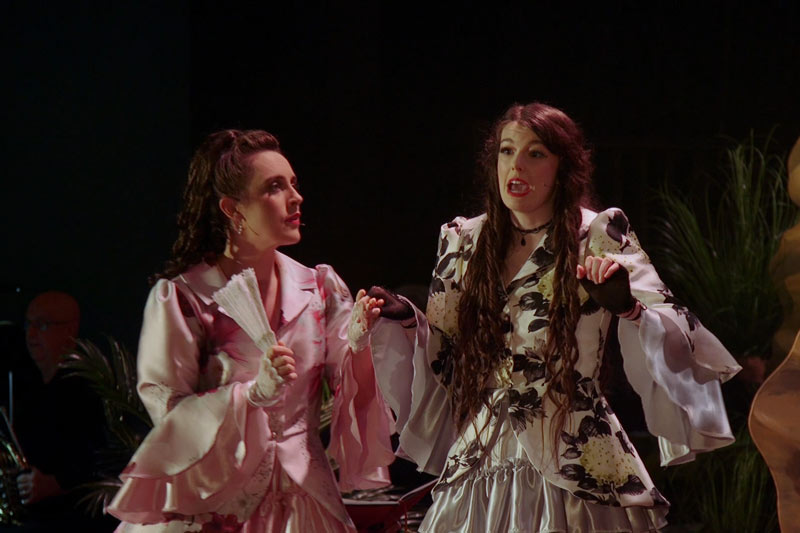 In 1992 the company presented a production of Die Fledermaus in Speers Point Park, an enterprise of Lake Macquarie City Council, billed OPERA ON THE LAKE. Conductor was Ross Fiddes, and director Frank Oakes. The date was September 13, a cold night chosen by Lake Macquarie staff, yet 3,000 people attended. In December 1992 Amahl & the Night Visitors by Menotti was produced at St. John's Church, Cook's Hill. It was directed by Greg Gascoine, conducted by Ross Fiddes, with The Novocastrian Arts Orchestra.
1993 was a busy year. First, in March a double bill of Master Peter's Puppet Show by de Falla, and The Medium by Menotti at King's Theatre. Director was Kylie Yates, conductors Ross Fiddes and Patricia White. The Medium won a CONDA for best production. In July they presented Carousel at Newcastle City Hall, directed by Ian Skilton, conducted by Kay Lane.
Later in the year the company presented Bizet's Carmen at Newcastle's Civic Theatre, as part of the re-opening celebrations of the theatre following a $12m refurbishment. It was conducted by Ross Fiddes and directed by John Wregg. This season of 6 performances was a sell out and the highest earning production for the company to date.
In 1994 Love Lust and Treachery, a program of solos, duets, and choruses was presented at City Hall in Newcastle, then later in the year, the massive Les Miserables at Civic Theatre." Les Mis" had 12 sold out performances, a cast of 56, an augmented orchestra of 50 players, conducted by Ross Fiddes and directed by Matthew Lazarus-Hall.
In 1994 & 1995 Janet Thompson organised The Opera Hunter Chorus presenting Christmas Carols in Lake Macquarie & Newcastle shopping Centres, with Musical Directors  Kim Stephens & Brett Pajnic, & accompanist  Patricia Williams. During this period Janet also organised fund-raising concerts at Newcastle High School for further development of chorus members with music direction by Christopher Allan & Patricia Williams, and direction by Stewart McGowan.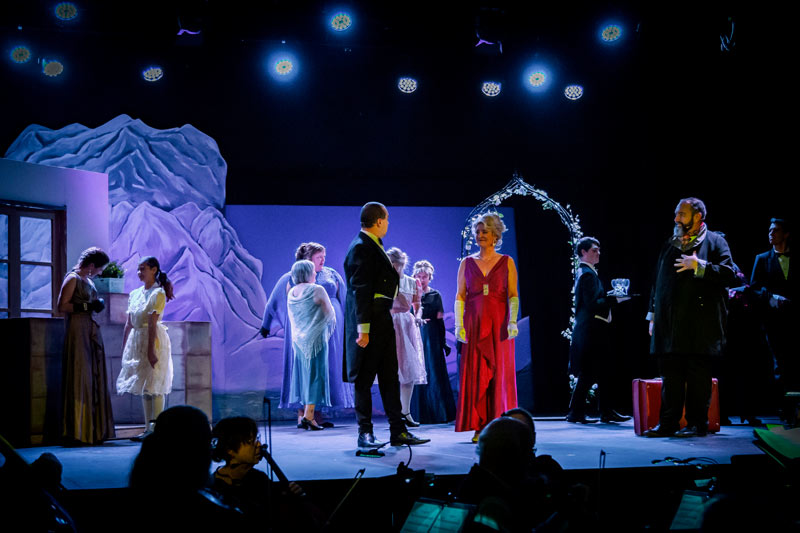 1995 produced Oliver at Civic Theatre, directed by Wendy Leis and Kristi Street. The conductor was to be Ross Fiddes but on opening night he was struck down with appendicitis and Brett Pajnic stepped in at the last minute.
1996 was the year of Madama Butterfly at Civic Theatre, starring the lovely Jennifer Barnes, a role she was to take further with her career at Opera Australia. The conductor was Roland Peelman, Director John Wregg and used The Hunter Orchestra in the pit.
In 1997 the company presented a concert version of Ross Fiddes' and Paul Kavanagh's Abelard and Heloise at the Newcastle Conservatorium of Music. Paul and Ross were jointly awarded the CONDA for Outstanding Achievement in Newcastle Theatre in that year.
From 1997 the company now named Opera Hunter (a term coined by pianist Helen Smith) has been under the presidency of Mercia Buck. 1997 saw a production of The Merry Wives of Windsor by Nicolai at City Hall. Director was Andrew Coombes and conductor John Kellaway.
1998 was another busy year with concert programs; Arias and Roses at Lake Macquarie's Awaba House in June, and Great Moments from Opera at The Highfields Azzuri Sports Club in August.
In October at City Hall, a double bill of Suor Angelica and Cavalleria Rusticana played to good audiences with a cast of all Hunter singers and musicians directed by Kate Sweeney, conducted by Brett Pajnic, and featuring Patricia Brindle (now Woods), Hilary Oliver, James Bonnefin, Peter Brock and Joanna Cashin (now Andrew).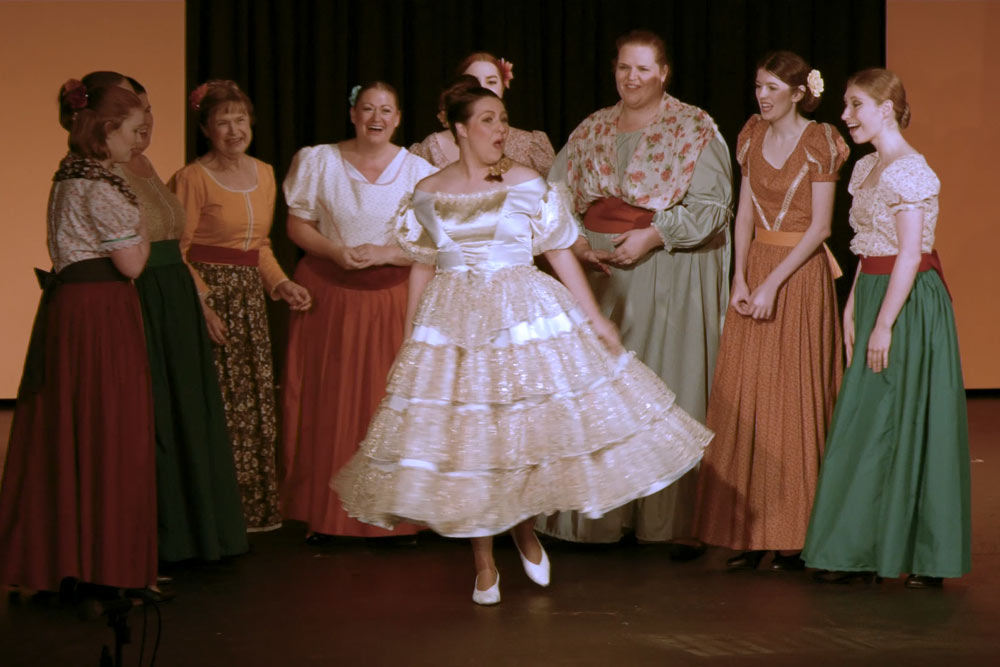 1999 was a very busy year. The Merry Widow was produced at the Griffith Duncan Theatre at Newcastle University & was directed by Fay Sharp, & conducted by Michael Bell. The Widow was played by guest American soprano Patricia Rhodes, with Andrew Coombes as Danilo, Joanna Cashin as Valencienne & John Dickeson received a CONDA ( City of Newcastle Drama Award) for his role as Baron Zeta.
After Aida is a "play-with-music" by Julian Mitchell , commissioned for The Welsh National Opera as a touring vehicle for small resources. In August Opera Hunter presented it in partnership with the University of Newcastle Drama Department at the Drama Theatre. It represents a period in the life of Verdi, exhausted after writing Aida & having retired to the country, collaborating with librettist Arrigo Boito to write his masterpiece Otello. Director for the production was Victor Emelijanov, Music Director was Mercia Buck, & the cast included James Bonnefin as Boito, Michael Saunders, Patricia Woods & Joanna Cashin.
Opera Shorts was presented in December 1999 at the Conservatorium of Music & featured Cox & Box by Burnand ( not Gilbert) & Sullivan. This was Sullivan's first successful comic opera written five years before the first opera with libretto by Gilbert. Opera Shorts paired Cox & Box with a condensed version of Mozart's Don Giovanni. Director for these pieces was Stewart McGowan, & Musical Director was Ian Cook.
There were five other programs of concerts in 1999 taking Opera to The Shortland Wetlands, Warners Bay Community Hall, Newcastle City Hall, Awaba House & The Lake Macquarie Art Gallery.
2000 and a new millennium saw an increasing commitment to larger budgets supported by increased funding from donors , businesses and corporations. A pattern emerged of using popular musicals to support financially the mounting of opera productions. Audiences grew and were becoming two distinct categories; opera and music theatre. The company continued to be truly Hunter in it's ability to move to many different venues.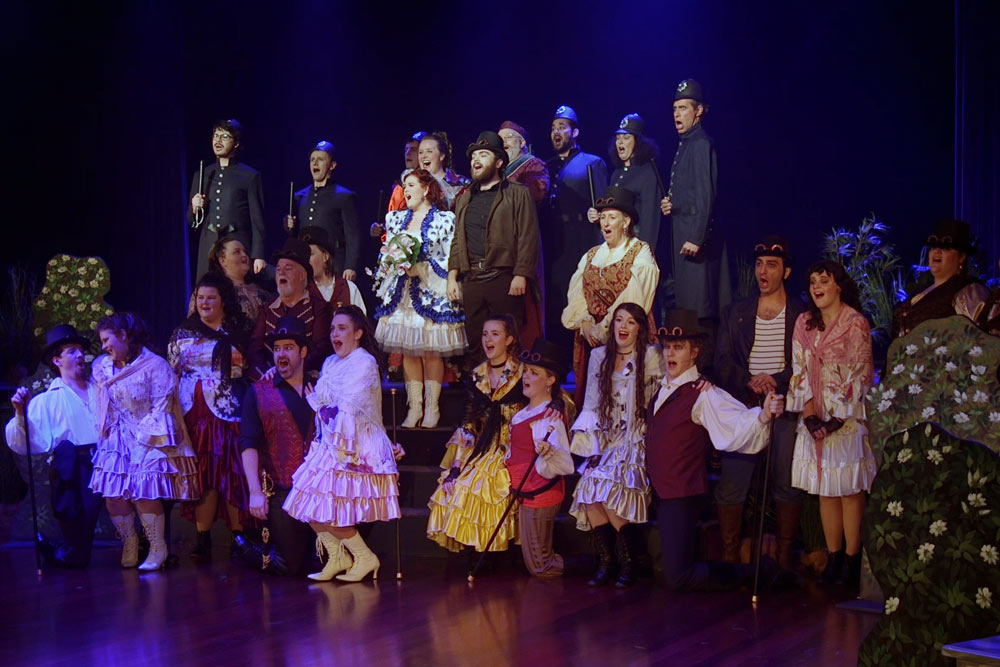 2000 saw two major productions, Die Fledermaus by Strauss in June at The Griffith Duncan Theatre, and Mozart's The Magic Flute in September at Newcastle City Hall.
Die Fledermaus broke new ground attracting major funding from corporate sponsors. It was directed by Felicity Biggins, with Music Direction by Michael Bell. The cast included Susan Carson – Rosalinde, Rachel Schmidt – Adele, Derek Dowding – Eisenstein, Maria Maroulis – Ida, Steven McLean played Orlovsky, & Stewart McGowan played Falk. Marie Walton-Mahon's ballet company were guest performers.
The Magic Flute season was 22-27 September. Carl Caulfield directed, and Ian Cook conducted. The cast included: Susan Carson & Kathryn Geoghegan as The Queen of the Night, Roy Weissensteiner as Tamino, Jane Lobban was Pamina, Ben Mingay & Jane Nicolle were Papageno & Papagena, Ceri Aubrey sang Monostatos, David Capewell sang Sarastro. The Three Ladies were Angela Lewis, Michelle Burnitt & Emma Haining, & children in the cast were Siobhan & Caitlin Caulfield, Alicia & Hannah Buck, Lachlan McGowan & Darcy Rice-O'Connor. The magnificent costumes were the work of the late Gabrielle O'Connor. Newcastle Dance Academy provided stunning dancers.
2001 Offenbach's light opera La Belle Helene opened in May at Newcastle City Hall & did a short season at Maitland Town Hall. Conductor was Ian Cook, & Director was Felicity Biggins.
Peter Ross's award winning production of West Side Story was presented at Club Nova from September 6 to 22. The twin towers in New York were features in the excellent set, & were destroyed on the 11th September during the season! The production had large corporate & government financial backing & took a number of chances using the bare stage area of Club Nova (the refurbished Workers Club after the devastation of the Newcastle Earthquake.) The cast list features many well-known names in Music Theatre: Erin James, Peter Meredith, Amy Vee, Daniel Wilson, David Hinchliffe, David Berkholz, Berry Shepherd, Ron Gillett , Michael Joyce & many more. Music Director was Michael Bell. This production won the "Best Musical Production" Conda, Best Director- Peter Ross, & Best Actress in a Musical Erin James. Ken Longworth in his Review for The Newcastle Herald called it "triumphant", "dazzling" and "superb."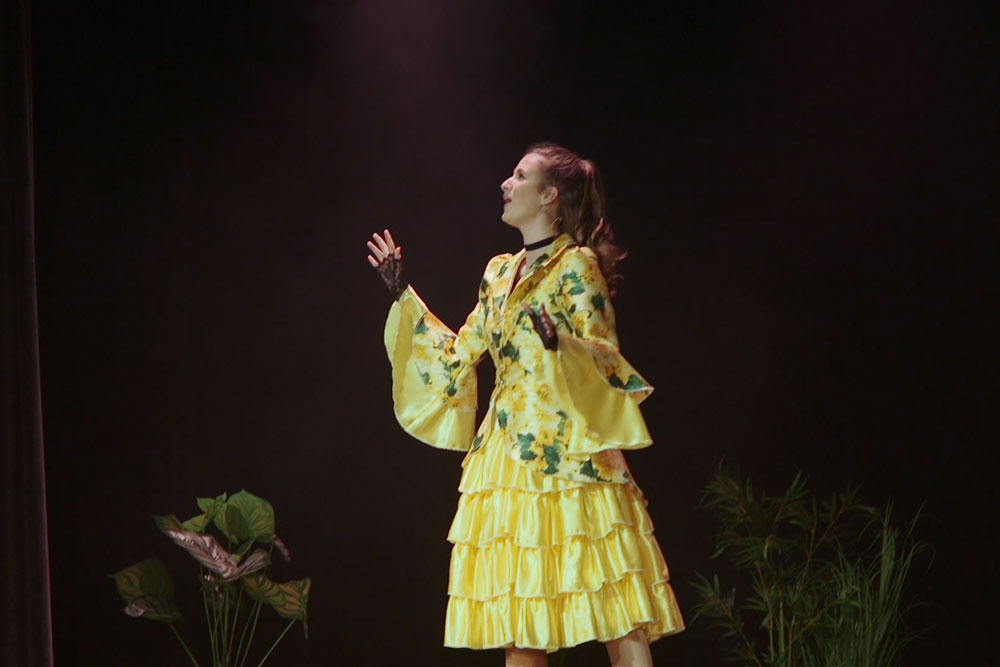 2002 This was a year when the company became established in The Lake Macquarie Performing Arts Centre, Warners Bay & Lake Macquarie City Council became consistent major sponsors. In April/May Opera Hunter presented their first Verdi production, Rigoletto with the excellent Baritone Craig Everingham in the title role, and tenor David Hamilton as the Duke, Hesta Hannah & Jane Lobbin sharing the role of Gilda, Joanna Cashin was Maddalena, Graeme Hands a terrifying Sparafucile, & Russell Spencer, Michelle Burnitt, Richard Brown, Scott Halliday , Elke Thompson, Lachlan Wilson, Marilyn Chegwidden & Simon Markatcheff among the cast. Carl Caulfield returned to direct , and Ian Cook conducted. Costumes were designed by Rachelle Schmidt, the designer & set Builder was Chris Maxfield.
In September the company presented Rogers & Hammerstein's Oklahoma!. The Director was Fay Sharp & Music Director was Adam Wills. A nineteen year old Daniel Stoddart played Curley & an eighteen year old Erin James played Laurey. Kurt Schweinberger & Carrie Manen were Ali Hakem & Ado Annie. Felicity Biggins played an excellent Aunt Eller, Evan Williams was Jud Fry. This production set a precedent for highly successful musicals, with devoted audiences financially cross subsidising operas. The company was grateful to Howard & Diana Bridgman for personally offering a financial guarantee against loss. It made a very healthy profit.
2003 Sweeney Todd Sondheim's masterwork about The Demon Barber of Fleet Street was presented in July/August at Warners Bay Performing Arts Centre. Susan Carson as Mrs. Lovatt, and Timothy Blundell as Sweeney Todd gave " stunning" performances. The excellent cast included Annabella Redman as Johanna, Byron Littlewood as Judge Turpin, Wendy Ratcliffe as the Beggar Woman, Daniel Wilson as Tobias Ragg, Howard Bridgman as Adolfo Pirelli, Stuart Brown as Anthony Hope & Guilherme Noronha as The Beadle. Carl Caulfield received high praise for the direction, & Ian cook was the very capable conductor. In the music staff was Gordon Hamilton as Chorus Director & assistant Repetiteur (to Mercia Buck). Gordon has gone on to a big career as composer, broadcaster & conductor in Australia & in Europe.
2004 The Marriage of Figaro – In the Outback. In July/August Opera Hunter presented a new take on Mozart's masterpiece, setting the opera in the outback of Australia. Director was Ghillian Sullivan, Music Director was Ian Cook. The cast included : Rohan Thatcher as Count Almaviva (The Boss), Hester Hannah as Countess Almaviva (The Missus), Susan Carson as Sussanah, Greg McLeod as Figaro, Kathryn Dries as Cherubino (Charlie), Sharon Allen as Marcellina (Wilhemena), and Russell Spencer, Chris Ferguson, Richard Brown, Narelle Vance, Rose Wallin and John Lucchese in other roles. Venue was Warners Bay Performing Arts Centre. There were five Conda nominations for: Ghillian Sullivan, Greg Mcleod, Susan Carson, Kathryn Dries & Figaro received a nomination for best non-professional musical production.
2005 Early in 2005, Ghillian Sullivan organised a performance of Figaro In the Outback at Longreach, as part of the Queensland Festival of Music & cast & crew made the very long journey in a bus from Newcastle.
In April/May the company presented The Music Man by Meredith Wilson, at Warners Bay. Director was Daniel Stoddart, & Musical Director Adam Wills, Choreographer was Jenny Wilson. Costumes were designed by Gabrielle O'Connor. The excellent cast included Wayne Rogers as Harold & Phillipa Ditton-Phare as Marian. Other leads were Michael Single, Peter Trist, Cheryl Sovecheles, Felicity Biggins, Luke Aspinell, Zoe McDonald, Samantha Anderson & Owen Elsley.
In October Opera Hunter produced Mozart's Don Giovanni at Warners Bay. Directed by Ghillian Sullivan it was set in a Fashion House in Italy in modern times. Music Director was Ian Cook.
The company faced considerable losses after the previous three years so 2006 was a year of consolidation & fund raising.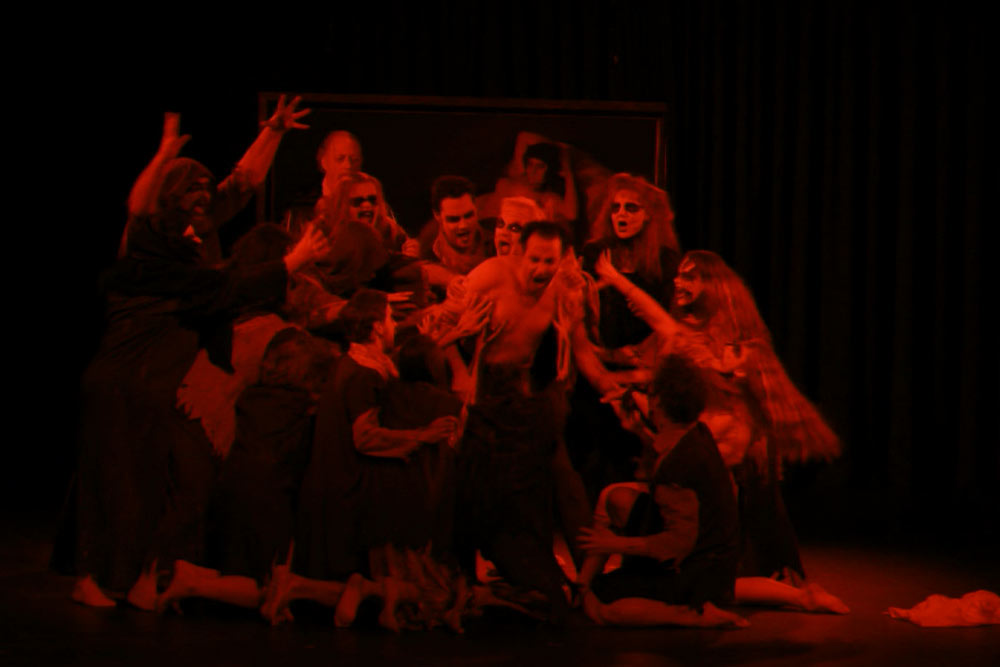 2007 In August, the company presented Andrew Lloyd Webber's Cats at Warners Bay to considerable success. Music Director was Ross Fiddes, & Director, Designer & Choreographer was Samantha Fiddes. The large cast included many who have gone on to big careers in the industry: Ali Calder, Declan Egan, Jake Nielsen, Wendy Ratcliffe, Alison Cox, Owen Elsley, Louise Thornton, Miranda Hayman. This production was a major leap forward financially for the company, providing a surplus which enabled planning for an operatic season in 2008.
2008 In May Opera Hunter presented a season of Handel's Julius Caesar at The Hunter Theatre in Broadmeadow. This was a new milestone for the company achieving a very high standard of musicianship. The amazing Jennifer Barnes stepped in at six weeks notice to learn the lead role of Cleopatra. Male Alto Steven McLean played Caesar, Michael Saunders sang Ptolemy, Joanna Andrew was Cornelia, Paul Morris was her son Sextus, James Bonnefin was Achillus & David Capewell was Nirenus. Director & Designer was Jason King, & Music Director was Susan Hart. SEE REVIEW
In October 2008 Opera Hunter returned to Warners Bay Performing Arts Centre to present Leonard Bernstein's Opera Trouble in Tahiti. This short piece is about suburban life in middle class America in the 1950's depicting a disintegrating relationship & the hollowness of a "good" wife's existence. Directed by Jennifer Barnes, it featured singers Angela Black, Greg Connors, Jacqueline Brown, Peter Bird & Paul Morris. The opera was preceded by an innovative " Ed Sullivan Memorial Show", a delightful Variety Show. Reviewer Kan Longworth called this "an excellent production".
2009 Miss Saigon. This production opened at Cessnock Performing Arts Centre May 1st -3rd, then played at Warners Bay 8th to 17th May. It was directed by Jason King, with Music Direction by Susan Hart, & Choreography by Jade Hillard. Cast included Josephine Tam & Louise Thornton as Kim, Nicholas Stabler as Chris, Andrew Godbold played the Engineer, with Paul Chegwidden & Jacquelyn Brown as John & Ellen, Peter Bird as Thuy, & Sarah Taylor as Gigi (shared with Louise Thornton) & a 7 year old Giles Jeffery as Tam. There was a large chorus & orchestra, & outstanding sound design by Scott Travis who worked with Opera Hunter for many years.