Love, Life & The Americans, & Trouble in Tahiti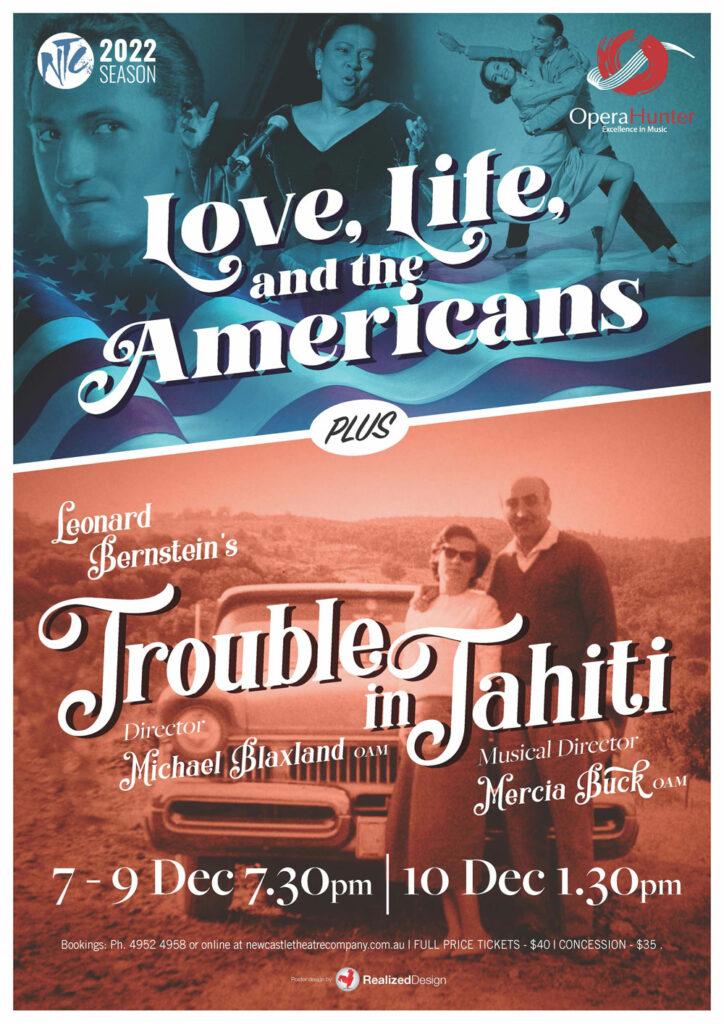 At last, we are able to offer you a great night's entertainment with a season of the double-bill:
LOVE, LIFE & THE AMERICANS, & THE LEONARD BERNSTEIN OPERA – TROUBLE IN TAHITI.
LOVE LIFE & THE AMERICANS
LOVE LIFE & THE AMERICANS stars the glamorous AFTER FIVE – Wayne Rogers, Mary Russ, Kathryn Graham & Graeme Hands presenting their stunning entertainment of classics from the American stage of the 20th Century. Enjoy works from The Ziegfield Follies & Showboat from the 1920's. Relive classics from Rogers & Hart of the 1930's, Bricusse & Newley from the 1960's, and Sondheim from the 1970's. After Five are The Hunter's own Celebrity Entertainers.
Also enjoy Opera Hunter's Soprano Galatea Kneath who will sing Musetta in our production of La Boheme next June, Michael Saunders singing Ol' Man River, prize winning soprano Kirsten Busby singing A Horse with Wings, and the much-loved Megan Williamssinging Me & The Sky from the sensational musical Come from Away.
TROUBLE IN TAHITI by LEONARD BERNSTEIN
Brooke Littlewood, James Walker, Beth Traynor, Theo Williams & Luke Power dazzle in this gem by Leonard Bernstein set in American suburbia of the 1950's. Bernstein wrote both lyrics & the music score, and it tells the story of a disintegrating marriage loosely based on his own parent's life. It is an insightful picture of disillusionment with The American Dream, the male ego, comment on the place of women in society then, and the dreams and fantasies offered by the movies (the "Silver Screen"). It is a highly entertaining work showcasing our excellent trio of Beth, Theo & Luke, and the vocal gymnastics of the leads, James & Brooke. Expect to be ultimately uplifted by this production!
This will be a Covid safe production at Newcastle Theatre Company.
Bookings: Ph. 4952 4958 or online at newcastletheatrecompany.com.au | FULL PRICE TICKETS – $40 | CONCESSION – $35
DATE
Newcastle Theatre Company
WEDNESDAY 7TH – 7.30 pm
THURSDAY 8TH – 7.30 pm
FRIDAY 9TH – 7.30 pm
SATURDAY 10TH – 1.30 pm
---
TEAM
Director: Michael Blaxland OAM
Musical Director: Mercia Buck OAM
---
BOOK TICKETS
Ph. 4952 4958 or online at newcastletheatrecompany.com.au
FULL PRICE TICKETS – $40
CONCESSION – $35