Love, Life & The Americans, & Trouble in Tahiti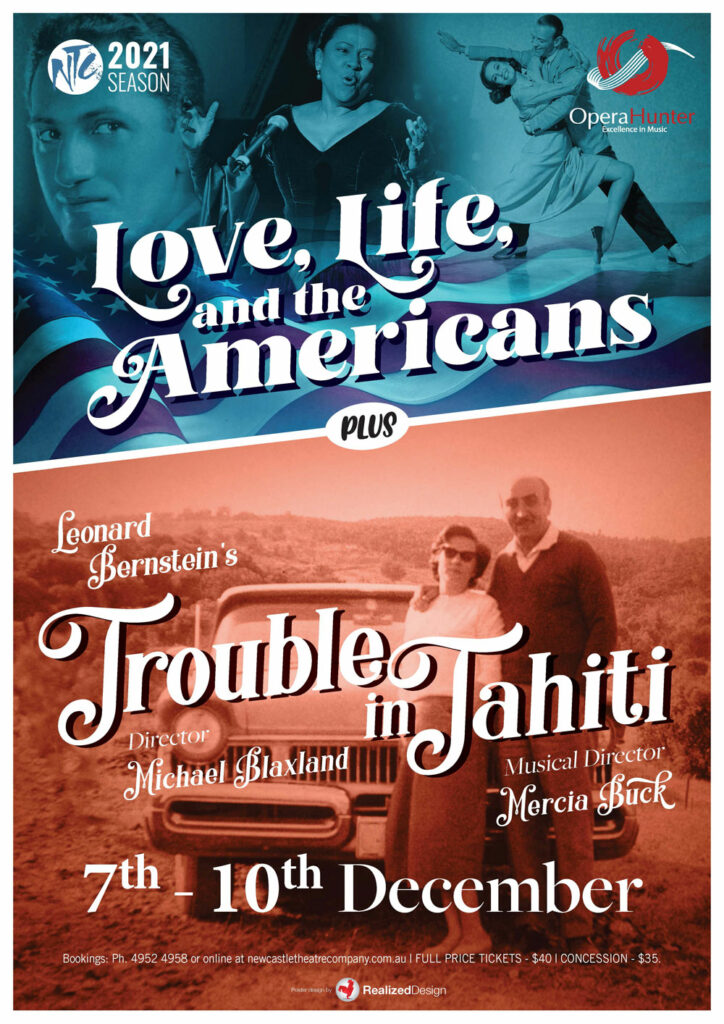 At last we are able to offer you a great night's entertainment with a season of the double-bill:
LOVE, LIFE & THE AMERICANS, & THE LEONARD BERNSTEIN OPERA – TROUBLE IN TAHITI.
Brooke Littlewood, Danny Folpp, Beth Traynor, Theo Williams & Luke power sing their hearts out in this short opera about suburban life in the 1950s where nothing ia as it seems. Music styles range from Jazz, quirky classical, pastiche of movie music to the highly dramatic. The script, written also by Bernstein, is sharply incisive in depicting the deep discontent troubling the American Dream.
LOVE , LIFE & THE AMERICANS continues Opera Hunter's tradition of a short cavalcade, this time show casing the huge output of American music from the early 20th Century to the present day. The line-up of performers is a Who's Who of Hunter artists: Kirsten Busby, Sam Elmi, Kathryn Graham, Braeme Hands, Galatea Kneath, Wayne Rogers, Mary Russ, Michael Saunders, Catherine Sheng- Cooper, Megan Williams, Ashlee Woodgate, and a taste of Opera Hunter's musical for 2022 A Gentleman's Guide to Love & Murder. The program sweeps across the huge canon of Musicals, Opera & Art Song, from 1899 to 2013 with a special violin performance of a Kreisler arrangement of Gershwin, played by Catherine Sheng-Cooper.
This will be a Covid safe production at Newcastle Theatre Company.
Bookings: Ph. 4952 4958 or online at newcastletheatrecompany.com.au | FULL PRICE TICKETS – $40 | CONCESSION – $35
DATE
Newcastle Theatre Company
WEDNESDAY 7TH – 7.30 pm
THURSDAY 8TH – 7.30 pm
FRIDAY 9TH – 7.30 pm
SATURDAY 10TH – 1.30 pm
---
TEAM
Director: Michael Blaxland OAM
Conductor: Christopher Bearman
---
BOOK TICKETS
Ph. 4952 4958 or online at newcastletheatrecompany.com.au
FULL PRICE TICKETS – $40
CONCESSION – $35