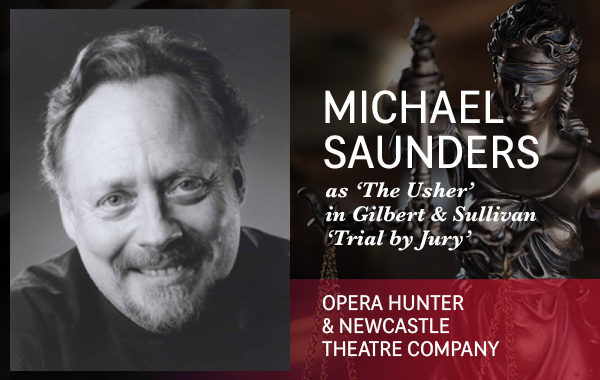 Michael Saunders came late to opera, after a successful career in engineering.
For Opera Australia Michael has sung Zuniga (Carmen), Betto di Signa (Gianni Schicchi), Melisso (Alcina), Swallow (Peter Grimes), The Bonze (Madama Butterfly), Harasta (The Cunning Little Vixen), Marchese di Calatrava in La Forza del Destino, Sciarrone in Tosca, Fifth Jew and Second Soldier in Salome, Biterolf (Tannhäuser), the Mayor (Jenufa), Mephistopheles in Faust, Sparafucile and Monterone in different seasons of Rigoletto, Hans Foltz in Die Meistersinger von Nürnberg, Quince in A Midsummer Night's Dream, Nourabad in The Pearlfishers, Dottore Grenville in La Traviata, Nourabad in The Pearlfishers for Seven's Opera in the Domain, Harasta in Cunning Little Vixen, Ferrando in Il Trovatore and the title role in The Mikado.
Operatic engagements for other companies include Seneca (The Coronation of Poppea) for Newcastle University Conservatorium; Sarastro (The Magic Flute) for Canterbury Opera NZ; Nourabad (The Pearl Fishers), Bass Knight (covering Klingsor and Titurel) in Parsifal and Ferrando (Il Trovatore) for State Opera of South Australia; Bouncer (Cox and Box) for Sound Construction Company, a Fyodor Chaliapin project with the University of Newcastle, the Tutor (Elektra) for Sydney Festival 2000, Basilio (Il Barbiere di Siviglia) and Ferrando (Il Trovatore) for Opera Queensland, Ferrando (Il Trovatore) and the Commendatore in Don Giovanni for West Australian Opera.
He was a principal for Opera Hunter in Newcastle from its inception in 1988. His roles for that company include Sarastro (Magic Flute), Dr Falke (Die Fledermaus), Peter (Hansel and Gretel), Colas (Bastien and Bastienne), Figaro (Marriage of Figaro), Melchior (Amahl and the Night Visitor), Mr. Gobineau (The Medium), Escamillo (Carmen), Don Quixote (Masters Peter's Puppet Show) and The Bonze (Madama Butterfly). Other roles he has performed are Chubukov (The Proposal), David (A Hand of Bridge), Alberic in a new work Abelard and Elloise by Ross Fiddes for the Sound Construction Company, Marchese (La traviata), Menelaus (La Belle Helene), Henry Higgins (My Fair Lady), Black Bob (The Little Sweep), Absolom (Fiery Tales by Larry Sitsky), General Groves (Foxy by Martin Friedel), Emil de Becque (South Pacific) for which he received a Conda Best Actor Award, Fernando Villa Bella (La Gazza Ladra) and Guadenzio Strappapupupule (II Sr. Bruschino) for Pacific Opera.
His substantial concert work includes Fifth Jew and Second Soldier in Salome and The Bonze (Madama Butterfly) in concert conducted by Edo de Waart for Hong Kong Philharmonic, Montano and Ludovico (Otello) in concert as well as Mephistophele's Song of the Flea by Beethoven (orchestrated by Shostakovich) as part of a Shostakovich celebration concert, both under the baton of Oleg Caetani for Melbourne Symphony. Michael's more recent engagements include the Dvorák Stabat Mater for Royal Melbourne Philharmonic and Beethoven's Missa Solemnis with Melbourne Chorale.
Other concert engagements have included Brahm's Requiem and Handel's Samson for Newcastle City Choir, Bruckner's Te Deum for Sydney Uniting Churches at Sydney Opera House, Schubert's Winterreise and Schwanengesang for Lake Macquarie Music Society, a selection of Gilbert and Sullivan, for both Hunter Orchestra and Opera Hunter, Musorgsky's Songs and Dances of Death for Kuring-gai Virtuosi, Rossini's Stabat Mater for Willoughby Symphony Orchestra and Choir and also for Sydney University Music Society, Mussorgsky's Songs and Dances of Death and Ravel's Four Songs for Don Quichotte for Newcastle University Conservatorium, Opera in the Park for Hunter Orchestra and Mozart's Requiem, Messiah, Verdi Requiem, The Creation and Mount of Olives (Beethoven) for Newcastle University Choir and the Verdi Requiem for Willoughby Symphony.
Michael returned to engineering in 2005 and did not sing for some years. Since then he has performed various roles in a Love, Life and Opera staged operatic concert series, Tolomeo in Handel's Julius Caesar and Tevye in Fiddler on the Roof for Opera Hunter as well as an ongoing series of Raise the Roof fund raising concerts.
"…Michael Saunders did wonders as Ferrando – vocally, he was a standout for consistent beauty of tone, security of line and musicianly phrasing."
– The West Australian May 2002
Michael will perform in this special season of 'Life, Love & Opera III' and play the role of 'The Usher' in Gilbert & Sullivan's delightful 'Trial by Jury', 5 – 8 December 2018 at Newcastle Theatre Company. Learn more >