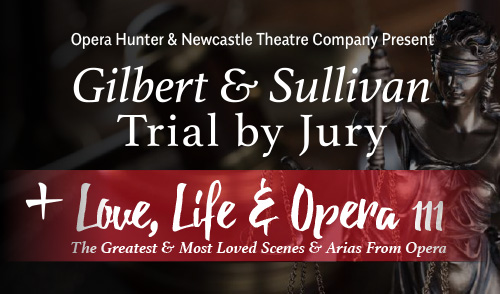 THE SHOW
In a first for Newcastle theatre, NTC and Opera Hunter join forces for a special independent season.
The first half is a selection of the best-loved scenes and arias from opera in Opera Hunter's twice-CONDA-nominated "Love, Life and Opera" series.
Gilbert and Sullivan's hilarious "Trial by Jury" provides the second half of the program, a never-out-of-date poke at the judicial systems and vanity with a couple vying for justice over a broken of promise of marriage.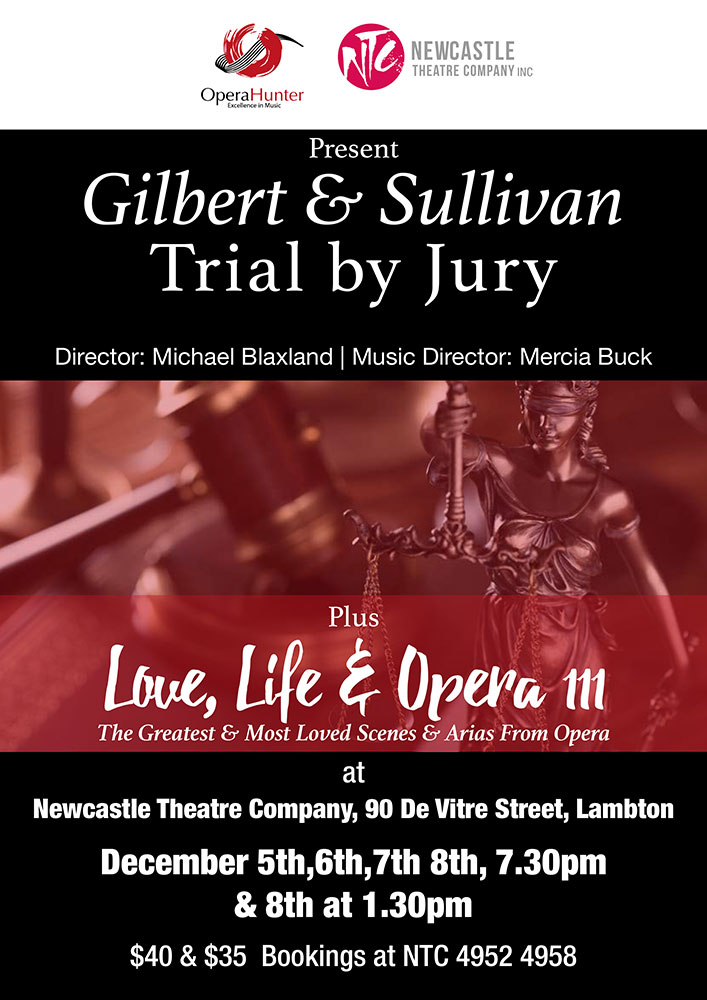 DATES
Wednesday 5 Dec – 7.30pm
Thursday 6 Dec – 7.30pm
Friday 7 Dec – 7.30pm
Saturday 8 Dec – 1.30pm & 7.30pm
Newcastle Theatre Company
90 DeVitre Street Lambton, NSW 2299
---
PRODUCTION TEAM
Director: Michael Blaxland
Music Director: Mercia Buck
---
CAST OF CHARACTERS
Trial by Jury
Judge: John Dickeson
Plaintiff: Galatea Kneath
Defendant: John Campbell
Counsel: Malcolm Young
Usher: Michael Saunders
Foreman of the Jury: Jeff Cutts
Bridesmaids: Nina Campbell, Megan Williams, Imogen Bilinsky.
Ensemble: Francis Carlisle, Renee Edmonds, Kaitlin Arvidson, Jessicah Pawley, Megan Williams, Noelene Crozier, Beth Traynor, Stewart McGowan, Sam Elmi, Evan Graham, Mark Gaul, Jonathan Carlisle.
Love, Life & Opera III
Soprano Francis Carlisle (Gordon)
Tenor Sam Elmi
Bass Baritone Michael Saunders
Soprano Marion Moroney
Mezzo soprano Megan Williams
Mezzo soprano Genevieve Dickson
Soprano Imogen Bilinsky
Soprano Galatea Kneath