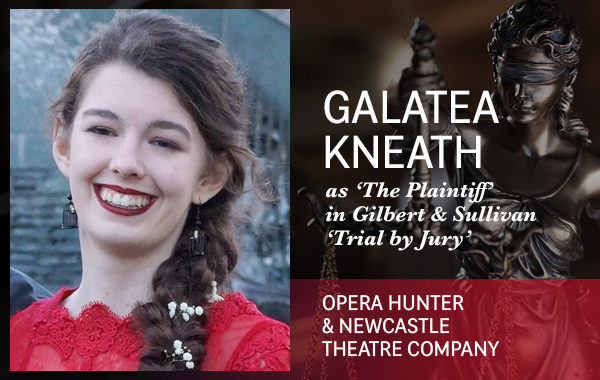 Galatea, 17, has recently completed her HSC at Newcastle Grammar School and has been nominated for Encore for Music 2 and Music Extension performances.
Galatea has been studying singing for 13 years and is currently studying with Dr. Annabella Redman. She was awarded with a High Distinction for her AMEB Certificate of Performance and is now working towards her AMus A.
Galatea started performing with Opera Hunter's Carmen in 2011, from there followed numerous productions at Young People's Theatre, The National Theatre Company, and Opera Hunter, including Évita (National Theatre Company) and Don Giovanni (Opera Hunter).
Recently, Galatea has commenced directing at Young People's Theatre, having been apart of the director team for Winnie the Pooh Kids, Cats Abridged, and Jungle Book Kids.
Next year, she will be working with Opera Australia in Sydney, having been awarded with their Regional Scholarship, where she will partake in lessons, coachings, and workshops with professional Opera Australia staff and performers.
Galatea is pleased to be part of this special season of 'Life, Love & Opera III' and will play the role of 'The Plaintiff' in Gilbert & Sullivan's delightful 'Trial by Jury', 5 – 8 December 2018 at Newcastle Theatre Company. Learn more >