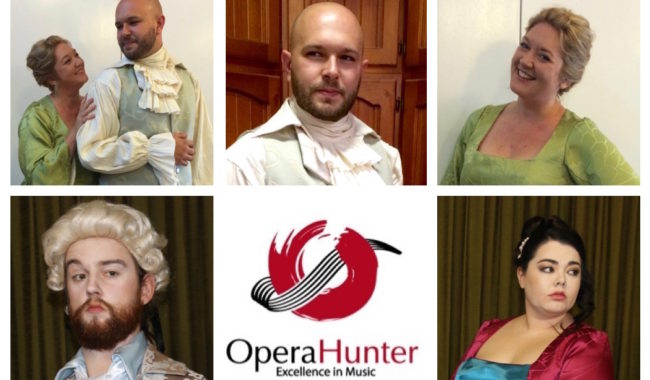 Following on from our sell-out season of The Marriage of Figaro in Lake Macquarie, Opera Hunter will present one final performance at Maitland Town Hall, 2pm Sunday 10 July 2016 with the support of Maitland City Council. Maitland City Council joins a select group of business supporters that includes Gold sponsors Klosters, Orica and Scenic.
"We are thrilled to have the support of Maitland City Council in presenting this wonderful production to the people of Maitland and the surrounding areas of the Hunter Region," says Mercia Buck, President of Opera Hunter Inc.
"We are equally excited to be showcasing the talents of local performer Amber Lewis as Cherubino and Costume Designer Coralie Lewis. Maitland is home to many wonderful artists," says Mercia Buck.
Mozart's comedic masterpiece based on a play by the French writer Beaumarchais stands as one of the greatest of all operas. It is known for its wonderful twists and plots that fill the stage with love, drama and laughter. The storyteller makes a mockery of the rich aristocrats of the time and creates heroes of the working class servants Figaro and Susanna.
Opera Hunter's production is brought to you by Director Michael Blaxland, Music Director Susan Hart, Producer Mercia Buck and Conductor Christopher Bearman.
Figaro will be played by Alex Sefton who has been touring with Opera Australia for the past two years. Leading Hunter Region soprano Marian Maroney will perform the role of his exquisite Susanna. Also touring with Opera Australia has been Jared Lillehagen who is playing the Count and his beloved Countess, Georgina Hall has performed in many of Pacific Opera's productions.
The much loved Cherubino will be played by Maitland-based performer Amber Lewis, Anthea Harrington will play the entertaining role of Marcellina alongside her counterpart Dr Bartolo, played by Geoffrey Hicks. John Campbell will appear as Don Curzio and Tashana Hardy will play the sweet character Barbarina. Costumes for the production have been designed by Coralie Lewis.
Tickets are $35 Adult, $30 Concession, $80 Family (2 adults, 2 children) and are available by phoning (02) 4943 1672 or via Sticky Tickets:
https://www.stickytickets.com.au/35254/marriage_of_figaro__maitland_town_hall.aspx
Media contact: Justin McKee 0404 824 020