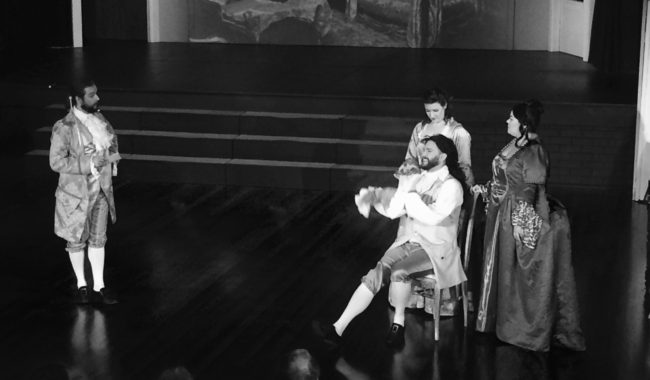 Media release – Opera Hunter
"Generous business help provide professional pathways for music artists"
A stellar cast of performers thrilled guests last night as Opera Hunter's 'The Marriage of Figaro' opened at Lake Macquarie Performing Arts Centre.
The opening celebrated months of hard work from around a hundred performers, musicians and artists including Opera Australia's Alex Sefton and Jared Lillehagen and sopranos Marian Maroney, Ashlee Woodgate, Georgia Hall and Hayley Doherty.
"Opera Hunter is a charity organisation and with the support of Lake Macquarie City Council and Gold Sponsors Klosters, Orica and Scenic we were able to present a professional production to the audience and foster local talent in the process," says Mercia Buck, President of Opera Hunter.
Mayor of Lake Macquarie, Cr Jodie Harrison, said cultural events such as Opera Hunter's production of 'The Marriage of Figaro' bring positive economic and social benefits to the City.
"I am pleased Council has the opportunity to support performances such as this, which provide quality entertainment and help enrich the lives of our community," Cr Harrison said. "I am looking forward to watching this popular opera featuring some of Australia's finest performers."
Orica Kooragang Island signed on as a sponsor as part of its commitment to making a lasting and positive contribution to the local community.
"We are delighted to support Opera Hunter, which has been developing and celebrating our region's talented performers for 30 years," said Orica's Site Manager Scott Reid.
"Like Opera Hunter, we are proud to be celebrating 30 years in business in 2016," Scenic COO Damien Thomas said.
"We relish the opportunity to provide support to other local organisations."
Managing Director of the Kloster Group, Edward Geschke said the company recognises the importance of corporate support for community groups.
"The arts within a local community are a vital part of shaping culture and attracting interesting and vibrant people to our community which makes life more exciting and diverse for all of us,"
"We all have a responsibility – including supporting our local artistic communities whether visual, musical, theatrical or written – to truly educate ourselves and our children. It is what makes a more diverse and cultural society. Without passionate community volunteers like Mercia Buck, important community events cease to exist, and our communities become less vibrant on many levels without volunteer support. Thank you Mercia!"
"Klosters supports 'The marriage of Figaro' in Newcastle, and genuinely thanks the many volunteers within community who make this production, and many more like it, to come to fruition."
The Lake Macquarie Philharmonic Orchestra is proud to play for this production which is supported by a production team that includes Director Michael Blaxland, Music Director Susan Hart, Conductor Christopher Bearman, costume designer Coralie Lewis and make-up artist Hannah Buck.
There are eight performances of the Marriage of Figaro at Lake Macquarie Performing Arts Centre from 15-26 June 2016 and one final performance at Maitland Town Hall on 10 July 2016.
Tickets: https://www.stickytickets.com.au/operahunter
Footage of production: https://youtu.be/hQe9JebUj3M
Media contacts:
Justin McKee, Marketing Manager Opera Hunter 0404 824 020
Mercia Buck, President of Opera Hunter (02) 4943 1672