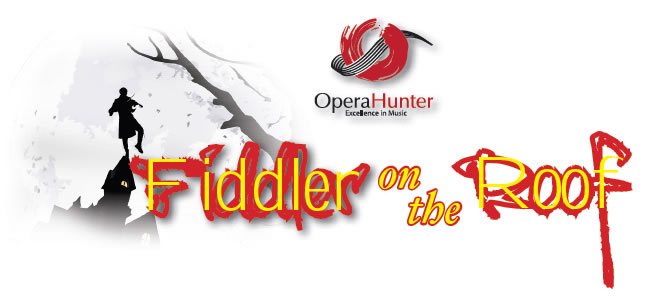 Opera Hunter is delighted to be able to announce an early bird deal for the first four performances of its next show Fiddler On The Roof. Friday April 13, an auspicious date, is opening night at the Hunter Theatre, Broadmeadow. Tickets are a flat $28.50 available from the Hunter Theatre website. This deal would make an excellent Christmas present. If Friday does not suit you then consider Saturday 14th matinee at 2pm or evening at 8pm, or Sunday afternoon 15th at 2pm.
Opera Hunter's new production will feature a fine cast of over 60 bringing a fresh but traditional style under the direction of Jason King, music direction by Susan Hart, and Choreography by Silvia Martinez. Fiddler on the Roof tells the story of the milkman Tevye and his wife Golde, their five daughters, and his little village in rural Russia. The Jewish community with its traditions and values is about to face great upheavals to its age old way of life. The daughters want to be free to choose their own husbands, and the Tzarist regime has sinister plans for Jewish communities. The revolution is not far off.
Fiddler on the Roof has a masterful score with memorable songs such as If I Were a Rich Man, Matchmaker, Sunrise Sunset, Anatevka, Tradition! The dance sequences are spectacular, the story line is compelling and the characters are unforgettable. It is a theatre experience to cherish again and again, as thousands have done.
Tevye is played by Michael Saunders, Golde his wife by Megan Williams, their three older daughters by Ashleigh Dives, Ellen McNeil & Emma Elsley, with Micah Lambert, Nicholas Stabler, John Dickeson, Lyndel Elsley, Brian Randell, Geoff McLaren, Kerryn Taylor and a stellar cast.
I look forward to seeing you at Fiddler on the Roof in April.
All the best,
Mercia
President/Producer