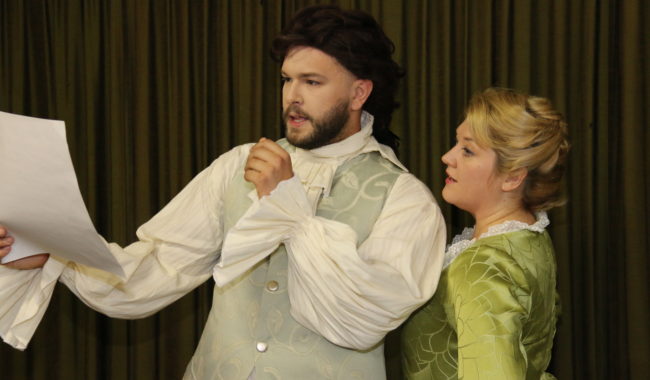 A wonderful talent of opera singers are set to bring laughter to Hunter audiences with Mozart's great comedy opera "The Marriage of Figaro" from 15 June. This brilliant work shines a light on exactly how the rich are viewed through the eyes of their servants, and the mischief that goes on behind the scenes!
Alex Sefton and Jared Lillehagen of Opera Australia are performing the lead roles of Figaro and the Count and are thrilled to be part of a wonderful group of passionate people who are dedicated to bringing this new production by Opera Hunter.
Sefton says, "The big tune from this opera that everyone knows is 'Non piu andrai', which basically means 'You won't go'. My character Figaro is making fun of an aristocrat boy Cherubino who is going off to war. Cherubino has no idea of the reality of war. He is going to have to give up his wigs, his fancy coats and his privileged life and instead live in a world where he will have canon balls and rifle bullets going past his head!
"This underscores what the whole opera is about: The rich of the time really have no grip on real life. And… it's as funny and relevant today as it was back then!" says Sefton.
"I couldn't agree more," says Jared Lillehagen who is playing the Count. "While my character is one of these rich aristocrats being made a mockery of, it's an incredible role to play and a great company to be working with. My character is more of a dastardly figure who is trying to steal Susanna from Figaro, before he gets the chance to marry her. All the plot goes on around me, and while I think I am in control of my own residence, it is really the servants who have control and I have no clue at all!"
The role of Susanna is being shared by Marian Moroney and Ashlee Woodgate and they agree the role brings some beautiful challenges.
"It's her mix of level headed, cunning and cheeky fun that makes her such a fun to character play!" says Marian Maroney. "It is these qualities that give her the capacity to elegantly waltz through all the chaos that threatens to prevent her marriage to Figaro.
"Everything she sings is so beautifully written. I'm genuinely in love with this music and the gorgeous person who is Susanna. I cannot wait to share her with the audience."
Ashlee Woodgate adds, "It is the largest role in the soprano repertoire, and our big aria is right at the very end. As an opera singer, this role teaches you about the stamina and endurance that you need for a big production like this.
"I really want to make the final act as exciting as I can for the audience, because it's in this section where the whole story unravels before eyes. I really want to take the audience with me on that journey and be as excited as I am," says Woodgate.
Stepping into the lead role in an opera for the first time is Hayley Doherty who shares the role of the Countess.
"You would think that being married to the Count should be a great thing right? Turns out, not so much!" laughs Hayley. "The man who once moved mountains to get my hand in marriage, and who was so deeply in love has turned his attention to our servant Susanna.
"It is a great role to play however because the Countess is a very complex character that reveals a great vulnerability when she is grieving for the love that her husband once showed her. She has an amazing fire and strength inside of her that is coupled with this very generous warmth and kindness," says Doherty.
"I've been married for ten years and I can image how devastating this would be if it were to happen to me," says Georgia Hall, long standing soprano who is sharing the role.
"While this opera was written 230 years ago, the joys and the heartaches of love never change. The Countess sails through the drama and chaos despite the embarrassing truth of what is going on. She simply has no choice but to put on a very brave front in the presence of her staff and remain poised.
"I look forward to bringing a lot to this iconic role and we all hope the audience loves, laughs and enjoys it as much as we do" concludes Georgia Hall.
The Marriage of Figaro starts Wed 15 June 2016 at Lake Macquarie Performing Arts Centre and plays eight times until 26 June and a final performance is on at Maitland Town Hall 10 July 2016.
Tickets: https://www.stickytickets.com.au/operahunter
Media contact: Justin McKee 0404 824 020
Image: Figaro and Susanna being played by Alex Sefton and Marian Maroney