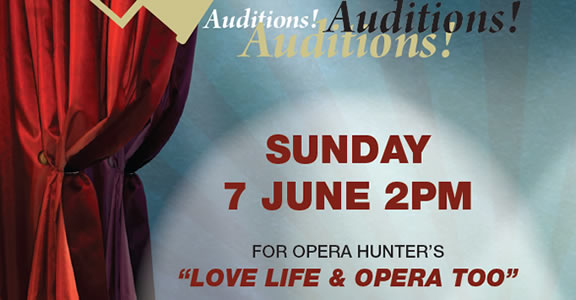 Opera Hunter will hold auditions on 7th June for the next production: LOVE, LIFE & OPERA TOO
The production will be at Warners Bay Performing Arts Centre on 23,24,&25 October 2015.
Auditions are for new principals and chorus/ensemble work. New singers are encouraged to offer work that presents their voice as developing with a view to further training through the operatic repertoire. Opera Hunter will finalise the repertoire when the cast is known. On the list of works are: The Café Scene from La Boheme, end of Act 2 of The Marriage of Figaro, excerpts from The Tales of Hoffman, choruses from The Gondoliers and The Merry Widow.
Young emerging singers are particularly welcome.
Rehearsals will start on Sunday afternoons from 12th July at 1 Baikie Crescent, Charlestown. Music Director is Susan Hart, Director is Michael Blaxland, Repetiteur is Mercia Buck.
To book a time for an audition contact Mercia on mbuck@exemail.com.au