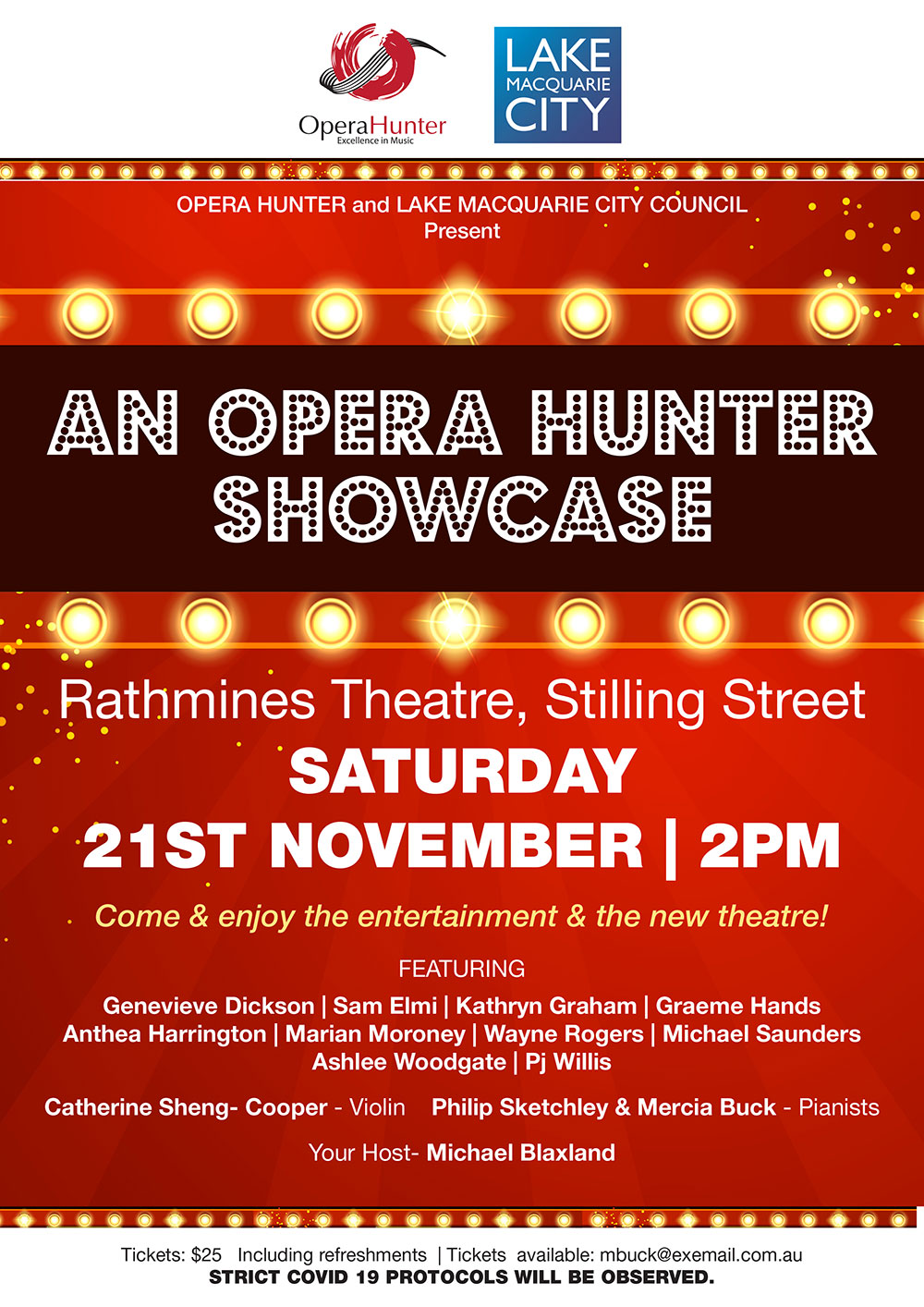 Our Showcase features Opera Hunter soloists in their spectacular best. From Wagner to Mascagni, Rossini to Bizet, but also Rogers & Hammerstein, John Adams & Dolly Parton – what more could you want for a Saturday afternoon of entertainment.
Ashlee Woodgate will sing the outrageous " I am the Wife of Mao Tse Tung" from John Adams' opera Nixon in China. This is a showpiece for a soprano with great dramatic flair.
Michael Saunders will sing his favourite Wagner aria, Genevieve Dickson sings her showstopper Una Voce from The Barber of Seville.
Anthea Harrington will sing 'Climb Every Mountain' from her excellent performance in our award winning Sound of Music production, and Sam Elmi & PJ Willis sing favourite party pieces.
Soprano Marian Moroney will present her wonderful Santuzza aria from our joint NTC Opera Hunter production of Cavalleria Rusticana. AFTER FIVE – with Graeme Hands , Wayne Rogers & Kathryn Graham – will sing Mac the Knife & Wayne will come as Dolly Parton!
Catherine Sheng-Cooper, concert master of The Opera Hunter Orchestra will play a violin solo – Gypsy Airs by Sarasate, & pianists Philip Sketchley & Mercia Buck will play Rhapsody in Blue of George Gershwin.
Saturday 21 November 2020 at 2pm.
The venue is the new Rathmines Theatre, Stilling Street, Rathmines. Come & check it out.
We will keep you safe with our Covid plan using Lake Macquarie Council & NSW Health protocols.
Tickets $25 available from mbuck@exemail.com.au
Violinist Catherine Sheng-Cooper is the concert master of the Lake Macquarie Philharmonic Orchestra, and will be a featured artist in the Opera Hunter Showcase.