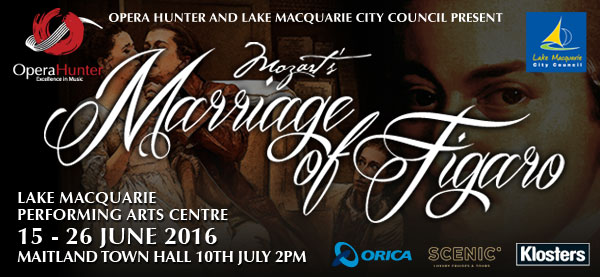 Opera Hunter and Lake Macquarie City Council will present a new production of The Marriage of Figaro from 15 June 2016, with Director Michael Blaxland, Music Director Susan Hart and Conductor Christopher Bearman. Figaro will be performed by Alex Sefton.
Performances at Lake Macquarie Performing Arts Centre:
Wed June 15th – 7.30pm
Fri June 17th – 7.30pm
Sat June 18th – 2.00pm
Sun June 19th – 2.00pm
Wed June 22th – 7.30pm
Fri June 24th – 7.30pm
Sat June 25th – 2.00pm
Sun June 26th – 2.00pm
Performance at Maitland Town Hall:
Sun July 10 – 2:00pm
BOOK TICKETS
Adult: $35
Concession: $28
Family (2 Adults + 2 Children): $80
Group Booking, 10 tickets for $300.
Book Now
Enquiries to Mercia Buck 4943 1672 or mbuck@exemail.com.au.
Find out more about the show
Gold Sponsors
Klosters
Orica
Scenic Tours
Bronze Sponsor
Tamburlaine Wines