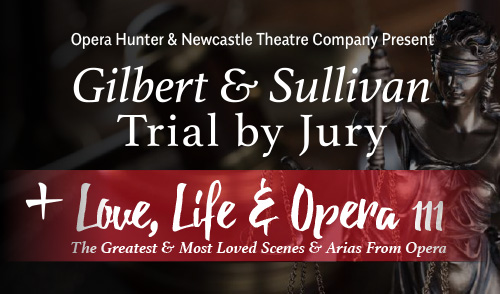 Love, Life & Opera III
Opera Hunter's third production of favourite operatic scenes features a fine cast of chorus & soloists.
Soprano Francis Carlisle ( Gordon) returns after a long period in Sydney and sings Violetta in the Drinking Song from Verdi's La Traviata. She is joined by tenor Sam Elmi as Alfredo, with the Opera Hunter chorus. Noted Bass Baritone Michael Saunders sings an excerpt from Wagner's Die Walkure, and the whole cast sing The Wedding March from Lohengrin.
Michael Saunders & Sam Elmi sing the duet from Pearlfishers by Bizet, one of the most popular duets of all time.
Two favourite excerpts from Verdi's Rigoletto are the soprano aria Caro Nome sung by Marion Moroney, and the wonderful quartet sung by John Campbell, Marion Moroney, Megan Williams & Michael Saunders.
Mezzo soprano Megan Williams sings the Gypsy aria Strida la Vampa surrounded by the chorus in the scene featuring The Anvil Chorus from Il Trovatore by Verdi.
Exciting mezzo soprano Genevieve Dickson sings Una Voce poco fa- the famous show piece from The Barber of Seville, by Rossini.
Two fine young sopranos Imogen Bilinsky & Galatea Kneath sing the delicate duet Abends will ich schlaffen gehn from Hansel & Gretel by Humperdink.
Trial by Jury – Gilbert & Sullivan
The beloved little operetta poking fun at the British judicial system is the second half of the program.
The cast:
Judge: John Dickeson
Plaintiff: Galatea Kneath
Defendant: John Campbell
Counsel: Malcolm Young
Usher: Michael Saunders
Foreman of the Jury: Jeff Cutts
Bridesmaids: Nina Campbell, Megan Williams, Imogen Bilinsky.
Ensemble: Francis Carlisle, Renee Edmonds, Kaitlin Arvidson, Jessicah Pawley, Megan Williams, Noelene Crozier, Beth Traynor, Stewart McGowan, Sam Elmi, Evan Graham, Mark Gaul, Jonathan Carlisle.
Director Michael Blaxland says " The talent in this production is excellent."