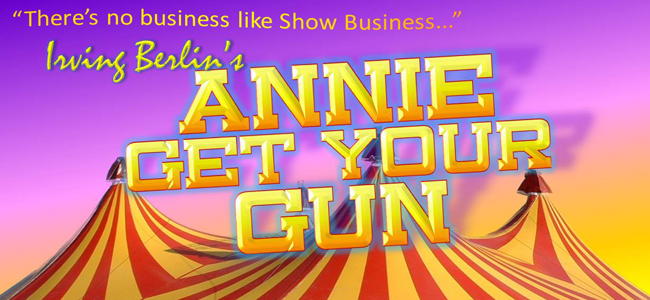 In May 2011 Opera Hunter presents a 1999 update of the Irving Berlin musical about the wild west and the rivalry between sharp shooter Annie Oakley and champion shot Frank Bulter. The whole action is presented as Buffalo Bill's Wild West Show, a "show within a show". Annie will be played by the exciting Stephanie Priest who wowed Director Daniel Kavanagh and Music Director Susan Hart at her audition. Frank Butler will be played by charismatic Glen Waterhouse and audiences can expect exciting chemistry between Frank and Annie as their relationship wrestles with love and egos. The show chronicles the ups and downs of show business and the characters surrounding the wild west show. Other members of the cast include Kathryn Sinclair, David Gubbay, Andrew McKinnon, Patrick Whitbread, Matt Lee, Lyndel Elsley, Sam Asser. There will be two casts of three children Georgia Hicks-Jones, Cassidy Lobb, Galatea Kneath, Olivia Payne, Glyndon Hayes and Zeke Weedon.
Choreographer Jo Ford said that the dancers will reflect a fusion of traditional Western and quirky Contemporary styles. The ensemble members are chosen as dancers and singers.
Iving Berlin filled this show with with a bag full of hit songs starting with There's No Business Like Show Business. Others are Doin' What Comes Naturally, The Girl That I Marry, Anything You Can Do I Can Do Better, You Can't Get a Man With A Gun, They Say It's Wonderful and many more.The chorus has some five part singing and the orchestration is a show band with strings. Audiences will leave this show singing.
Opening night will be May 6 and the show runs until May 15 at Lake Macquarie Performing Arts Centre, Hunter Theatre matinee and evening performance 21st May, then performances at Cessnock Performing Arts Centre on May 28th.
Information: Mercia Buck 49 431672 or mbuck@exemail.com.au