THE SHOW
Lake Mac Centre at Warners Bay will be hosting a brand new production of Rodgers & Hammerstein's last collaboration The Sound of Music. It is based on the story of The Von Trapp Family Singers who fled Austria as the Nazis moved in. Joint Directors Anna Lambert & PJ Willis have an excellent cast including two sets of the Von Trapp children, and a stellar group of principals. Maria will be played by Rachel Davies, fresh from her triumph in Wicked, and Hayley Doherty who played The Countess in Mozart's Marriage of Figaro in 2016. Noted Novocastrian performer John Radvan returns to the theatre as The Captain and his daughter Liliana plays one of the children Marta.
The lovely Alison Lobb plays Elsa Schrader the baroness who has plans to marry Captain von Trapp, despite the obstacle of seven children. The urbane entrepreneur Max Detweiler is played by Malcolm Young. The prize roll of The Mother Abbess is shared by Hayley Doherty & Anthea Harrington, both bringing their own magic to the wonderful Climb Every Mountain. The women's chorus of Nuns are led by Hannah Buck, Alexandra Cuthbert-Freese, & Nerida Walker with an excellent cast of ensemble singers.
Rolf Gruber, the young Nazi is played by Ezekiel Weedon, and his young romantic interest, Liesl, the eldest Von Trapp daughter, is played by Tashana Hardy and Grace Hughes. Other roles are played by James Walker, Zac Smith, Linda Bennett, Evan Graham & David Sivyer. The timeless score has a constant barrage of hit songs including Climb Every Mountain, My Favourite Things, Do-Re-Mi, Sixteen Going On Seventeen, The Lonely Goatherd, & The Sound of Music.
Conductor Christopher Bearmann OAM returns from Tasmania to conduct members of the Lake Macquarie Philharmonic Orchestra. Christopher has conducted The Yeomen of the Guard, The Marriage of Figaro and Don Giovanni for Opera Hunter. He will return to conduct the 2018 season of The Lake Macquarie Philharmonic Orchestra on Saturday 3rd & Sunday 4th November. Music Director is Mercia Buck OAM.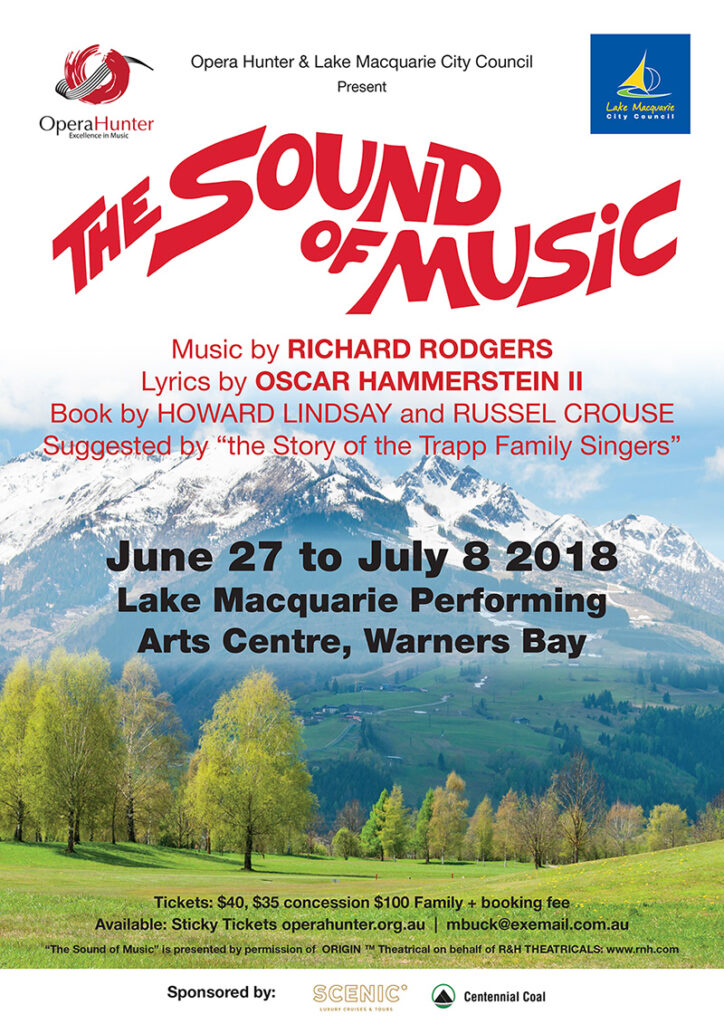 BOOK TICKETS
For patrons who require assistance with sales or special needs contact Mercia Buck 4943 1672 or email mbuck@exemail.com.au
Adult: $40 (plus booking fee)
Concession: $35 (plus booking fee)
Family: (2 Adults + 2 Children under 16): $100 (plus booking fee)
---
DATES
Lake Macquarie Performing Arts Centre:
Wednesday 27 June – 7.30pm
Friday 29 June – 7.30pm
Saturday 30 June – 1.30pm & 7.30pm
Sunday 1 July – 1.30pm
Wednesday 4 July – 7.30pm
Friday 6 July – 7.30pm
Saturday 7 July – 1.30pm & 7.30pm
Sunday 8th July – 1.30pm
---
PRODUCTION TEAM
Producer: Mercia Buck OAM
Directors: Anna Lambert & PJ Willis
Music Director: Mercia Buck OAM
Conductor: Christopher Bearmann OAM
Choreographer: Lizzy Lindus
Set Design & Realisation: Mary Ann & Stephen Hill
Costumes: Amanda Buck, Sandra Joyce & Coralie Lewis
Sound & Lighting: Lifelike Atmospheres
Hair Design: Ralf Jorg
---
CAST OF CHARACTERS
LEADS
Maria Rainer: Rachel Davies / Hayley Doherty
Captain Georg Von Trapp: John Radvan
Max Detweiler: Malcolm Young
Elsa Schraeder: Alison Lobb
Mother Abbess: Hayley Doherty / Anthea Harrington
Liesl Von Trapp: Tashana Hardy / Grace Hughes
Rolf Gruber: Ezekiel Weedon
THE CHILDREN
Friederich: Adam Crowfoot / Vali Graham
Louisa: Lily Kerslake / Skyla Blue Schillert
Kurt: Quinn Davies
Brigitta: Leelani Taranawiwat / Layla Rose Schillert
Marta: Lilliana Radvan / Marina Chamberlain
Gretl: Abigail Graham / Charlotte Winkler
FEATURED CHARACTERS
Sister Berthe: Hannah Buck
Sister Sophia: Alexandra Cuthbert-Freese
Sister Margaretta: Nerida Walker
Franz: James Walker / Zac Smith
Frau Schmidt: Linda Bennett
Herr Zeller: Evan Graham
Admiral Von Schreiber: David Sivyer
ENSEMBLE
Linda Bennet
Noelene Crozier
Renae Edmonds
Laura Graham
Lauren Hale
Reece Hamilton
Shonti Hardy
Grace Hughes
Jessicah Pawley
Jennifer Rossi
Elizabeth Traynor
Candace Van Vuuren