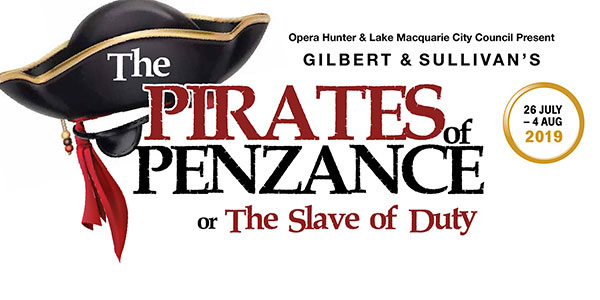 THE SHOW
Opera Hunter presents Pirates of Penzance or The Slave of Duty by W.S. Gilbert & Arthur Sullivan. A rollicking good show with a brilliant cast of Hunter Region Performers. Accompanied by The Opera Hunter Orchestra, conducted by Christopher Bearman OAM, Music Director is Susan Hart, Director is Amber Lewis, and Assistant Director/ Choreographer is Alcyon Manen.
The season will run 26th July – 4th August 2019, with a preview performance on the 24th July.
SYNOPSIS
ACT 1. THE SEASHORE IN CORNWALL
On a rocky seashore in Cornwall a group of Pirates are celebrating as apprentice pirate Frederic comes to the end of his apprenticeship on his 21st birthday. Frederic tells the King & the band that he will leave them as his duty to them will finish. His nursemaid Ruth admits that as she is a little deaf she should have apprenticed him to a Pilot not a Pirate. Frederic announces that his duty will now change from obligation & affection for them to a commitment to destroy them. He rejects Ruth as a wife, since he has never seen another woman, & she may not really be beautiful. He accuses the Pirates of being "too tender-hearted" as they will not attack orphans. Frederic invites The King to return to civilisation with him but the King will "live & die a pirate king."
A group of girls appear & Frederic accuses Ruth of treachery as he now sees that she is old & plain. The girls enter, Frederic is amazed at their beauty, & the youngest, Mabel agrees to marry him. After chattering about the weather while Frederic & Mabel sing of their love, the girls are caught by the entry of the Pirate King & his gang who each seize a girl. The father of Mabel & her sisters Edith Kate & Isabel is Major-General Stanley. He now enters. He disarms the pirates by telling them that he is an orphan. The King & the pirates sing of their love of poetry & respect for fine feelings, and make The Major General an Honorary Member of their band. All sing of their delight while Ruth is once again rejected.
ACT 2. MAJOR – TREMORDEN CASTLE; GENERAL STANLEY'S OLD CHAPEL & CASTLE
The Major-General sits weeping with regret for his orphan falsehood, his daughters try to console him. Frederic enters telling them he has a plan to "sweep the pirates from the face of the earth." He introduces his band of policemen. They sing of their duty – "When the Foeman bares his steel".
All exit except for Frederic who is then joined by The Pirate King & Ruth who tell Frederic that since he was born in a leap year he is not yet 21, but a boy of five. His duty is to return to the Pirates to complete his apprenticeship. Frederic agrees, however his "duty" now is to admit that General Stanley lied & is not an orphan. The King vows revenge & will attack Tremorden Castle & kill the Major-General. Mabel & Frederic sing of their love & Mabel vows to wait for him. Frederic leaves, Mabel is joined by the police. She demands that they do their duty & kill the Pirates. They sing that "A policeman's lot is not a happy one." The Pirates enter & the police conceal themselves. The Major-General enters lamenting his falsehood & sings of the beauty of nature – "Sighing softly to the River". The King, Samuel & Frederic enter. The Major-General is seized, a struggle follows between police & pirates. The Police are overcome but charge the Pirates to yield in the name of the Queen! Police then arrest the Pirates. Ruth enters & declares that the pirates are all noblemen "who have gone wrong." They are all forgiven as Englishmen "love their House of Peers." Everyone sings Poor Wandering Ones urging all to find "True Peace of Mind."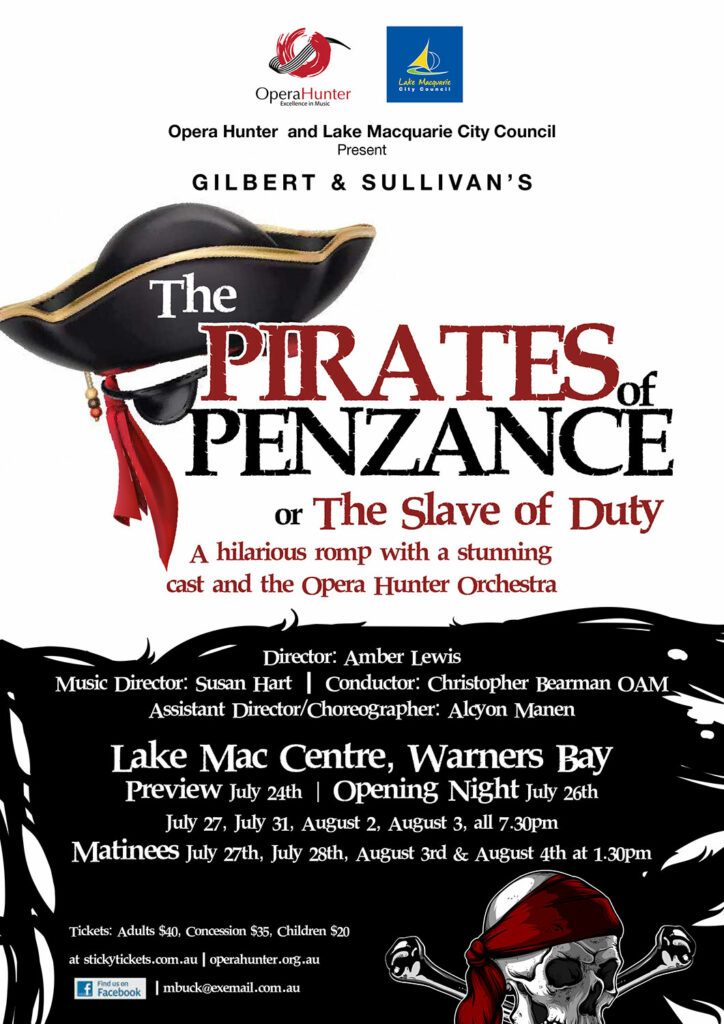 BOOK TICKETS
For patrons who require assistance with sales or special needs contact Mercia Buck 4943 1672 or email: mbuck@exemail.com.au
Adult: $40 (plus booking fee)
Concession: $35 (plus booking fee)
Family: (2 Adults + 2 Children under 16): $100 (plus booking fee)
---
DATES
Lake Macquarie Performing Arts Centre:
Wednesday 24 July – 7:30PM (Preview)Friday 26 July 2019 – 7:30PM (Opening Night)
Saturday 27 July 2019 – 1:30PM & 7:30PM
Sunday 28 July 2019 – 1:30PM
Wednesday 31 July 2019 – 7:30PM
Friday 2 August 2019 – 7:30PM
Saturday 3 August 2019 – 1:30PM & 7:30PM
Sunday 4 August 2019 – 1:30PM
N.B There are 2 casts of Principals – cast performance dates are listed below.
---
PRODUCTION TEAM
Producer: Mercia Buck OAM
Director: Amber Lewis
Music Director: Susan Hart
Conductor: Christopher Bearmann OAM
Assistant Director/ Choreographer: Alcyon Manen
---
CAST OF CHARACTERS
LEADS
Pirate King: Tristan Entwistle & Mathew Gallimore
Frederic: Sam Elmi & Brent Hanson
Mabel: Tashana Hardy & Freya Meredith
Ruth: Joanna Andrew & Brooke Littlewood
Major General: Stewart McGowan
Samuel: Jack Andrew & Michael Conry
Sergeant: Michael Saunders & Jeff Cutts
Edith: Emma Lewis
Kate: Galatea Kneath
Isabel: Ella Cox
FEMALE ENSEMBLE
Joanna Andrew, Gaile Brash, Noelene Crozier, Renee Edmonds, Bronte Fegan, Shonti Hardy, Tashana Hardy, Galatea Kneath, Brooke Littlewood, Freya Meredith, Jennifer Rossi, Lisa Thomas, Beth Traynor, Candace Van Vuuren
MALE ENSEMBLE
Jack Andrew, Michael Conry, Jeff Cutts, John Dickeson, Tristan Entwistle, Sam Elmi, Mathew Gallimore, Mark Gaul, Evan Graham, Brent Hanson, Tom Traynor, Alex Simpson, Michael Saunders
---
PRINCIPALS / TWO CASTS
FOR LOVE Cast
Pirate King: Tristan Entwistle
Frederic: Sam Elmi
Mabel: Tashana Hardy
Sergeant: Michael Saunders
Ruth: Joanna Andrew
Samuel: Jack Andrew
FOR LOVE Cast Performance Dates
Friday 26 July 2019 – 7:30PM (Opening Night)
Saturday 27 July 2019 – 1:30PM
Sunday 28 July 2019 – 1:30PM
Wednesday 31 July 2019 – 7:30PM
Saturday 3 August 2019 – 7:30PM
FOR DUTY Cast
Pirate King: Mathew Gallimore
Frederic: Brent Hanson
Mabel: Freya Meredith
Sergeant: Jeff Cutts
Ruth: Brooke Littlewood
Samuel: Michael Conry
FOR DUTY Cast Performance Dates
Wednesday 24 July –7:30PM (Preview)
Saturday 27 July 2019 – 7:30PM
Friday 2 August 2019 – 7:30PM
Saturday 3 August 2019 – 1:30PM
Sunday 4 August 2019 – 1:30PM