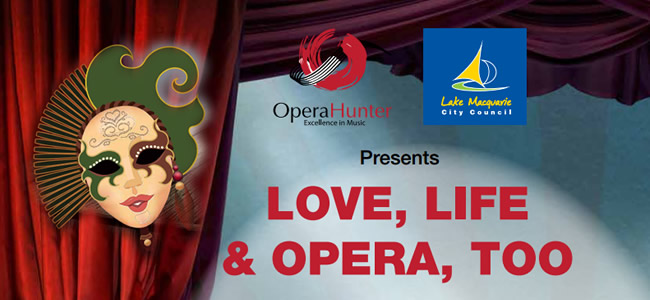 THE SHOW.
Opera Hunter is very excited to present its highlight program of the year, a rich and delicious mix of favourite excerpts from Opera and Gilbert & Sullivan Operettas. The 2014 program which began the tradition was nominated for a Conda (City of Newcastle Drama Award) in the "Best Theatrical Event" category. The 2015 production has the same talented team of Susan Hart as Music Director, Michael Blaxland as Director plus choreographer Sally-Anne Smith. The venue is The Lake Macquarie Performing Arts Centre, Warners Bay.
The cast has an array of fine singers. Soprano Sarah Whitteron has just returned from Berlin Opera Company, and will sing Santuzza in The Easter Hymn from Mascagni's Cavalliera Rusticana, and One Fine Day from Madama Butterfly. Distinguished Baritone Michael Saunders sings the role of Mephistopheles in excerpts from Gounod's Faust, including the thrilling final trio with sensational young soprano Tayla Choice, and tenor Phillip Costovski. Tayla sings the gorgeous Jewel Song from Faust and joins Phillip in excerpts from Verdi's La Traviata.
Baritone PJ Willis will sing Di Provenza from La Traviata, and join Phillip & Tayla in the Finale from this beloved opera with the excellent chorus.
Watch out for rising star, 17 year old baritone, Daniel Ott. This is an amazing voice which moved audience members to tears at last year's Raise the Roof concert in Charlestown. Daniel will sing Si vuol ballare from The Marriage of Figaro by Mozart & main roles in excerpts from The Gondoliers. Daniel is also a 1st grade footballer, and comes from a distinguished football family. He is studying with Annabella Redman.
Very promising young singers featured are soprano Tashana Hardy, boy soprano Sebastien Thornton-Walker, sopranos Lauren Day, Jessica Andrew, Galatea Kneath and Brittanie Dalley. We are delighted to have soprano Marion Moroney, mezzos Anthea Harrington & Noelene Crozier.
Soprano Amber Lewis will sing Dido's Lament from Dido & Aeneas by Purcell, and the letter Duet from Figaro, with Marion Moroney. We are pleased to present baritones Matthew Hopcroft & Ian Lucas, and young tenors Ezekiel Weedon & Ellery Durrant.
Humperdinck's Hansel & Gretel is featured with two famous duets: Brother Come & Dance with Me sung by Tashana Hardy & Jessica Andrew, and the glorious Evening Prayer sung by Marion Moroney & Anthea Harrington. Anthea & Marion are featured in excerpts from The Gondoliers & Marriage of Figaro.
Director Michael Blaxland will also feature as a solo singer in Hail,Poetry! From Pirates of Penzance by Gilbert & Sullivan! Michael grew up on the stage singing G&S with his parents.
All singers are featured in all works as chorus members.The program concludes with featured dancers Tashana Hardy, Sebastien Thornton-Walker, Jessica Andrew & Galatea Kneath in the toe-tapping Dance a Cachuca from The Gondoliers of Gilbert & Sullivan. Tickets available, $35 & $30 concession from Mercia Buck mbuck@exemail.com.au.
BOOK TICKETS
Enquiries to Mercia Buck 4943 1672 or mbuck@exemail.com.au.
Adult: $35
Concession: $30
---
DATES
Lake Macquarie Performing Arts Centre, Warners Bay
Friday, October 23 – 7.30pm
Saturday, October 24 – 2pm
Sunday, October 25 – 2pm