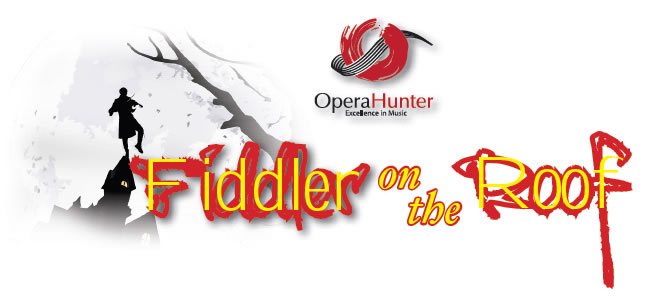 THE SHOW.
Opera Hunter is proud to announce a new production of Fiddler on the Roof for April 2012. The lead role made so famous by Topol will be played by noted baritone Michael Saunders, with Megan Williams as Golde. The stellar cast of fifty players, including Nicholas Stabler, Micah Lambert, John Dickeson, Lyndel Elsley, Brian Randall, Geoff McLaren, and a brilliant group of young performers are supported by a very large chorus of singers and dancers. Director is Jason King, choreographer is Silvia Martinez, music direction by a team of Susan Hart, Mercia Buck and Kieran Norman.
Performances start on Friday 13th April and run evenings Fridays, Saturdays, & Wednesday with matinees Saturdays and Sundays at the Hunter Theatre Broadmeadow until April 22nd. Then there are three performances at Cessnock Performing Arts Theatre, Saturday and Sunday matinees 28th and 29th April with an evening performance on Saturday 28th.
Fiddler on the Roof is based on stories by Sholem Aleichem , tales of the Jewish milkman Tevye and his family and their lives in the village of Atevka under Russian Tzarist rule. Jewish traditions are being challenged by the younger generation, particularly the three oldest daughters of Tevye as they move away from the family in their choice of husbands. A more sinister threat to the Jewish way of life comes from the Tzar, with his progroms and eventual eviction of the Jews from their homes.
The title of the show was inspired by a Marc Chagall painting "The Fiddler", one of many about Eastern European Jewish life. "The fiddler is a metaphor for survival, through tradition and joyfulness, in a life of uncertainty and imbalance."( Wikipedia)
The first Broadway production in 1964 ran for a record 3,242 performances, and won nine Emmy awards. The first West End production three years later ran for 2,030 performances, and the show has never been out of production somewhere in the world since.
The music by Jerry Bock with lyrics by Sheldon Harnick has a score of much loved songs,Tradition, If I were a Rich Man, Sabbath Prayer, Sunrise, Sunset , Matchmaker and Far from the Home I Love. The dancing is spectacular, with Russian Cossaks competing with traditional Jewish dancing.
PRODUCED – 2012
Tickets will be available at Hunter Theatre during school hours at 49523355, and at Cessnock at 49907134.
Further enquiries: Mercia Buck – 49431672 – mbuck@exemail.com.au