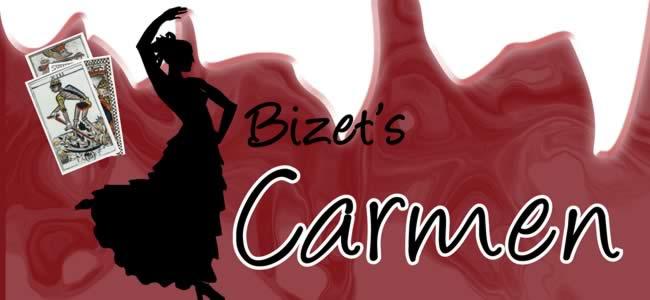 THE SHOW.
Carmen is a story derived from a Russian poem The Gypsies by Pushkin, set in Spain, translated into French and expanded into a novella by Merimee. In 1873 the Paris Comic Opera company commissioned Bizet to write an opera based on Merimee's book. The libretto was written by Meilhac & Halevy. The break from Comic Opera style with a tragic ending, characters of dubious morals, and the free spirited and seductive Carmen character brought great controversy to the work. Within three months of opening Bizet was dead at the age of 37, never knowing of the great place it was to have in the opera repertoire.
Bizet's genius created a masterpiece. It never ceases to excite and exhilarate. His music reflects his characters in dance and orchestral colour, and his drama in musical paintings and scenes. The gypsies, the soldiers, the cigarette factory girls, the Smugglers, the countryside, the bull ring; the colours of Spain; they are all in the score. The name " Carmen" means a song. This work is an extraordinary paean to song, free spiritedness, courage and life itself, triumphant and tragic.
SYNOPSIS.
ACT I
Soldiers and townspeople mill around in a square in Seville. A young peasant girl, Micaela, asks the soldiers if they have seen her sweetheart, Don José. Telling her he'll be back soon, they try to persuade her to stay with them, but she declines. The relief soldiers, including Don José, arrive. Factory bells ring, and a group of cigarette girls emerges from the factory where they work, including the popular gypsy beauty, Carmen. She focuses her attention on Don José, who pretends not to notice. Before leaving, she seductively tosses a flower at him. Alone, Don José recovers the flower and reflects on Carmen's charms. Micaela finds him and delivers both a letter and a chaste kiss from his mother, who asks her son to marry Micaela. Don José promises his love and fidelity to Micaela, despite the temptations of Carmen. A ruckus erupts from the cigarette factory. Carmen has injured another woman, and the officer Zuniga commands Don José to jail Carmen. But Don José succumbs to her charms. He agrees to a rendezvous and lets Carmen escape.
ACT II
At Lillas Pastia's inn, Carmen and her friends Frasquita and Mercedes consort with Zuniga and other soldiers. A group of revelers arrives, celebrating Escamillo, the illustrious bullfighter. The crowd cheers as Escamillo boasts of his victories. He notices Carmen, but she remains indifferent. Zuniga, also smitten, tells Carmen that he plans to return to the inn later to visit her. When the crowd disperses, the smugglers Remendado and Dancairo try to enlist the aid of Carmen, Frasquita, and Mercedes. Mercedes and Frasquita agree to help them smuggle contraband, but Carmen, expecting Don José, wants to stay at the inn. Don José arrives, and Carmen dances for him. But distant bugles signal him to return to his quarters and he prepares to leave. Carmen mocks his obedience and encourages him to run away with her and lead the free gypsy life. Don José remains unconvinced until Zuniga returns to the inn seeking Carmen. In a jealous rage, Don José defies his officer's orders to leave. As the smugglers pounce on Zuniga and escort him out of the inn, Don José has no choice but to remain with the gypsies.
ACT III
At the mountain hideout of the smugglers, Don José longs for his mother, who still believes him an honest man. Carmen taunts him and urges him to leave, but he refuses. Frasquita and Mercedes tell their fortunes with a deck of cards. When Carmen takes her turn, the cards foretell death for her and Don José. The gypsies set off to smuggle contraband, leaving Don José behind to guard the camp. Micaela arrives at the mountain hideout searching for Don José and hides among the rocks. Escamillo approaches the camp looking for Carmen. He and Don José exchange words and begin to fight. But the smugglers return in time to stop Don José from wounding Escamillo, who invites them all to the bullfight in Seville. Her hiding place discovered, Micaela begs Don José to return home to his mother, who is dying. Despite his violent jealousy, Don José leaves with Micaela.
ACT IV
At the bullfight, a crowd gathers to watch the procession of toreadors. Escamillo and Carmen arrive together. Mercedes and Frasquita warn Carmen that Don José is lurking about. Carmen, unafraid, waits alone for Don José. He approaches and begs her to leave with him. She insists that their affair is over, that she does not love him anymore, and that she now loves Escamillo. As Don José's demands become more desperate, Carmen throws at him the ring he once gave her. Don José murders Carmen, while the crowd inside the bullring cheers Escamillo.
PRODUCED – 2010
---
PRODUCTION TEAM.
Director – Jason King
Music Director – Susan Hart
Conductor – John Kellaway and the Lake Macquarie Orchestra
Technical Design – Scott Travis
Costumes – Susan Hart
Choreographer – Silvia Martinez
---
CAST.
Carmen – Linda Barcan
Carmen – Jacquelyn Brown
Dan Jose – Paul Morris
Micaela – Joanna Andrew
Micaela (Cover) – Gabrielle Jack
Frasquita – Gabrielle Jack
Mercedes – Anna Hart
Mercedes (Cover) – Sharon Allen
Escamillo – Joshua Salter
Escamillo (Cover) – Dermod Kavanagh
Le Dancaire – Matthew Gallimore
Le Dancaire (Cover) – Chris Maxfield
Morales – Dermod Kavanagh
Le Remendado – Peter Willis
Zuniga – Alex Townsend