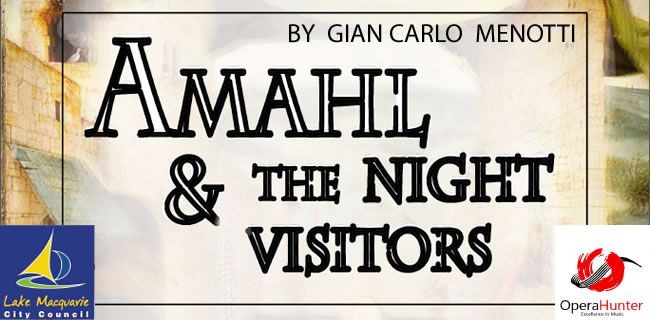 THE SHOW.
Lake Macquarie City Council and Opera Hunter present Amahl & The Night Visitors. A Christmas Opera in English.
The Italian/American composer Menotti wrote this one act opera as a commission specifically for television and it was first performed on Christmas Eve 1951. It had its inspiration from the Heironymous Bosch painting, The Adoration of the Magi and Menotti's childhood Christmases in Italy. There was no Santa Claus but there were visits from The Three Kings bringing gifts to Gian Carlo and his brother. Menotti wrote the libretto himself and he has given the Kings distinct personalities: the deaf and slightly eccentric Kaspar, the gentle and polite Melchior, and the black, tall and very wise Balthazar. Amahl is a crippled boy who lives with his impoverished mother in a shepherd's hut.
Opera Hunter has a very fine boy lead in Sebastien Thorton-Walker, the mother is soprano Georgina Hall, the kings are played by tenor Phillip Costovski as Kaspar, baritone Matthew Hopcroft as Melchior, and bass baritone Geoff Hicks is Balthazar. The page is played by talented young baritone Ezekiel Weedon, and all are ably assisted by the Opera Hunter chorus and duo pianists Philip Sketchley and Mercia Buck.
Seating is strictly limited so booking is advisable.
BOOK TICKETS
Enquiries to Mercia Buck 4943 1672 or mbuck@exemail.com.au.
Adult: $25
Concession: $20
Children under 16: $10
Family ( 4+4): $60
---
DATES
CHARLESTOWN UNITING CHURCH, MILSON STREET, CHARLESTOWN
Friday December 12th – 7pm
Saturday December 13th – 2pm
---
PRODUCTION TEAM.
Director – Michael Blaxland
Music Direction – Susan Hart / Mercia Buck
Choreography – Sally-Anne Smith